Caitlyn Oster '11 took over @BisonINCareers on March 20th and took us through her day as an Analyst for Citigroup. If you missed it you can read all about her day here.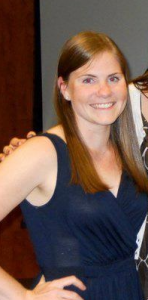 Caitlyn graduated in 2011 with a double-major in Business Management and Spanish.  She is currently working for Citi in their Global Transaction Services (GTS) business.  After completing an internship at Citi during the summer before her senior year, Caitlyn was offered a full-time position with the bank.  She is now part of Citi's GTS Analyst rotational program, which consists of three 1-year rotations within the business.  Working in Client Sales Management, Caitlyn sells Citi's Cash Management products to a portfolio of North America Corporate clients.
Caitlyn says that her favorite part of her job is the client interaction, as well as the competitive atmosphere, and she is not hesitant to admit that she is still on a very steep learning curve!  Being part of such a large and global organization brings many great opportunities for personal and career development including mentorship, travel, and lots of training!
In her free time, Caitlyn enjoys doing anything outdoors, and traveling to new places.  She is currently living in the Financial District of New York City, and loving exploring the city.
If you are interested in finance and/or Citigroup make sure you check out Caitlyn's day on our storify!


Related Posts: