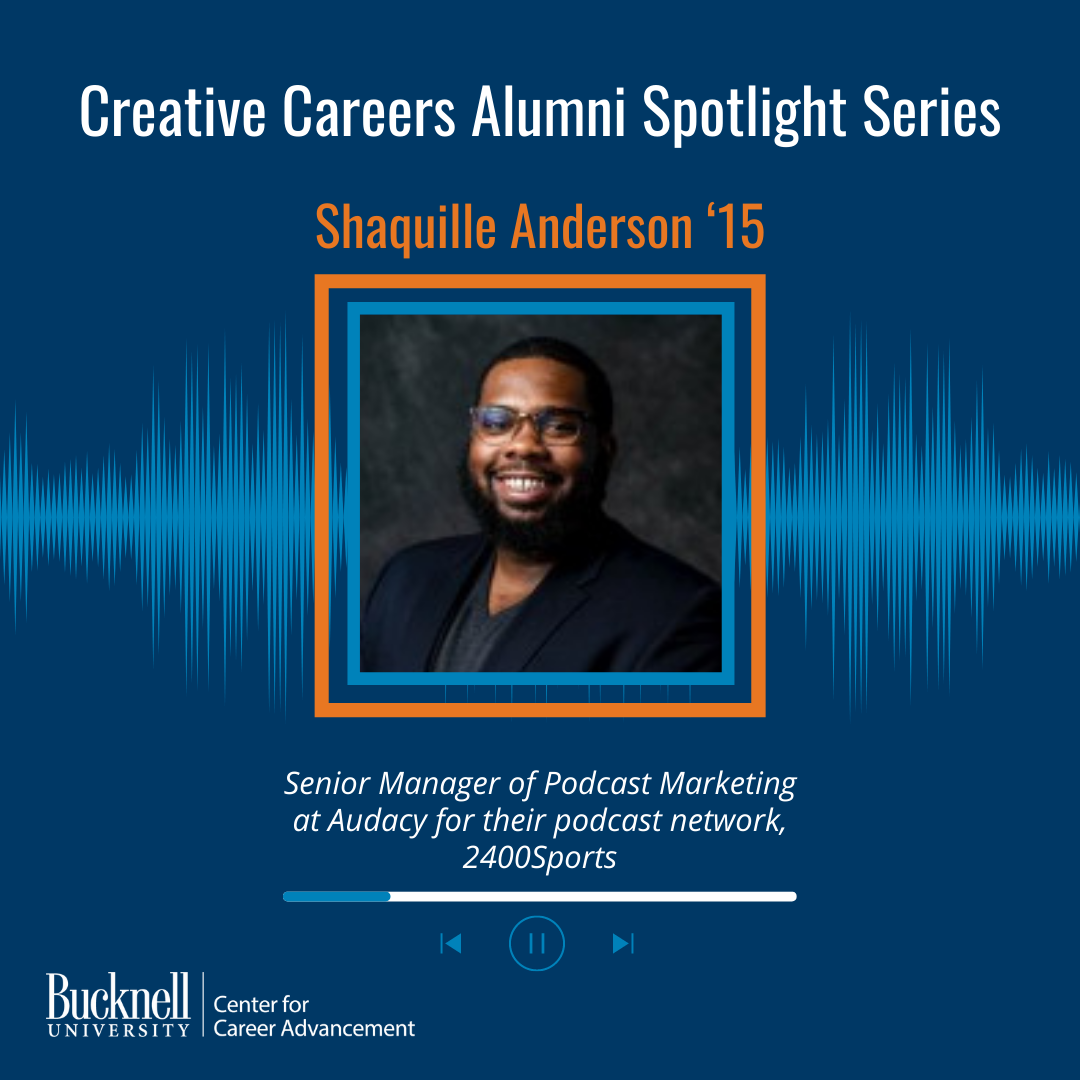 Senior Manager of Podcast Marketing at Audacy for their podcast network, 2400Sports
Majors: Economics (Marketing) & Sociology
From a proud former member of the Kappa Alpha Psi to a successful Senior Manager of Podcast Marketing at Audacy, Shaquille Anderson is one of the many Bucknell graduates with a creative career. Shaquille was highly involved during his time at Bucknell, and it was his experience with Professor Joaquin Gomez-Miñambres that inspired him to seek a career in marketing.
His career began at Brown Brothers Harriman & Co. and later at JP Morgan Chase & Co., where he honed his data analytics skills. Simultaneously, Shaquille was doing freelance marketing work, which allowed him to pursue his passion in marketing. It was through this freelancing work that he was able to work on significant projects that aided in the development of his work portfolio. One of his most meaningful projects involved collaborating with Yelp's local team in Boston, where he leveraged his extensive marketing experience to help grow Yelp's business by promoting the value of Yelp's services and Elite Members to local restaurants.
Shaquille continued to be inspired as a life-long learner; he participated in a course at Boston's General Assembly branch to become a certified digital marketer, where he was surrounded by like-minded individuals who assisted him in developing more creative marketing techniques. It didn't end there for Shaquille; after working at JP Morgan, freelancing, and working part-time at Yelp, he decided to pursue a full-time position that aligned with his interests. That's when he accepted a Content Strategist position at Marketmuss, an Artificial Intelligence Content Marketing company, where he worked with well-known brands and refined his skills as an SEO/PPC/SEM expert.
With strong passion for marketing, Shaquille combines his passion for marketing, and strength in networking to launch a Marketing Manager role where he released two new podcast networks. His journey has just begun, in 2022 he was presented with an undeniable opportunity to build a network at Audacy as the Senior Manager of Podcast Marketing for 2400Sports.
Shaquille loves his work! He appreciates being creative, seeing ideas through to completion, and witnessing the results of his effort when his work is nominated for podcast of the year, wins an award, and even makes the streaming podcast rankings. He feels that creativity cannot be taught, and that exercising it constantly can be frustrating at times, but if we know one thing about Shaquille Anderson, it is that he thrives on challenges.
His passion is motivating, and he has demonstrated that nothing is unachievable with enough effort and determination. For students interested in pursuing careers in this industry, do research, be creative, go out there, and discover your passion. It could be lurking in the most unexpected places. And lastly, take lots of trips and buy bitcoins!
Want More? Join the Creative Arts, Media & Communication Career Community through Handshake under My Career Interests and get ready for curated information related to your career interests.