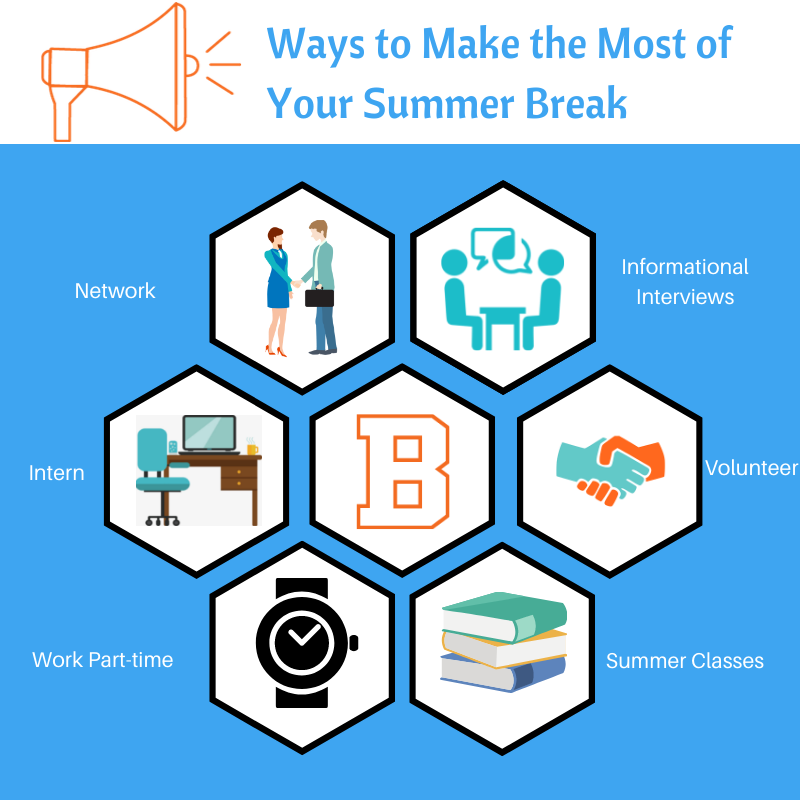 Summer break is on the horizon! As the end of the semester is upon us and finals will soon begin, we wanted to say – congrats you made it! While there is still much work ahead to finish your semester strong, it's not too early to think about what will you do with your summer?
As you begin an internship or summer job or continue to search for the best way to use the next few months, remember that our office continues to be available to YOU! Be sure to stay connected to Handshake, where summer internships and jobs will continue to be added for many more weeks, and you have many career resources at your fingertips at our 24/7 Career Moodle site where you'll find tips and guidance on on Resumes, Interviewing, and Networking and you can learn about a wide variety of career paths from our archive of industry career panels and other career program recordings.
Here are more ideas for how to weave career work and experiences into your summer:
Gain Experience
Summer Jobs: part time perhaps with a part time internship on the side or full time. Either way a summer job is a great way to make some extra cash for the semester and also gain experience that can be highlighted on your resume.
Internships: gain experience, make important networking contacts, and learn new skills relevant to your future career. Remember to update your resume and LinkedIn with your role and connect with anyone you work with in the company (including other interns!). There are countless articles offering tips and advice on how to make the most of your internship so check out a few (like this one from Indeed or this one from HuffPost) to make sure you are getting as much out of this experience as you can.
Research: Students who take part in research not only learn about their own projects, they build analytical and critical-thinking skills, leaving them better prepared to take on their first job or excel in graduate school. Discover more about the Undergraduate Research Opportunities available for you.
Volunteer: You may not being paid but volunteering can be an invaluable experience and future employers know this. You gain new skills, become a part of a community, and you never know who you may meet or what future employer might have a similar passion as you. Learn more on how volunteering can help align with – and advance – your career goals in this post on the benefits of volunteering.
Keep Learning
Summer Classes: For instance Bucknell offers a six-week Summer Session of full- and half-credit Bucknell courses and independent study experiences. Open to current and incoming Bucknell students, high school students and students at other colleges, Summer Session is perfect for those looking to feed their curiosity and explore their world. Local colleges and universities closer to your hometown might have something similar for you to take advantage of.
Build Skills: Perhaps you are taking a summer class or just want to work on gaining new skills. Working on anything from learning excel, publishing software, Photoshop, improving writing or public speaking skills, will all benefit you in the long run. Access Bucknell's LinkedIn Learning page and or check out Coursera to build skills with courses, certificates, and degrees online from world-class universities and companies. Have fun discovering what sort of skills you can learn this summer!
Summer conferences or programs: While things slowly open up there are still many virtual opportunities you can take advantage of and attend from the comfort of your own home. Two that come to mind are the Tech-Edge Trinity Program and the Marketing Edge College Summit in June.
Make Connections
Informational Interviewing or Job Shadowing: both are excellent ways to learn more about a certain field or industry – and start building contacts within them. Check out these tips on how to get started.
Network: in person and/or online. The summer is a great time to work on your online profiles like LinkedIn and Handshake. It's also a great time to see if there are any alumni in your area using the Bucknell Alumni Directory powered by BucknellConnect and perhaps even setting up some informational interviews to learn more about a particular industry/job and make some connections. Nervous about networking? We've got some tips to help you get started here.

LinkedIn: Get your profile started or update it with what you've accomplished during the academic year. LinkedIn is not just for making connections though – checkout industry groups, professional associations, and company pages which can all act as great industry research tools in addition to company websites. We've got tips galore on this thread: https://careerinsider.blogs.bucknell.edu/tag/linkedin/
BucknellConnect.com: This site is exclusively for Bucknellians and contains the Alumni Directory (60,000+people!). Bonus: Many alumni have activated their profiles and noted that they are "willing to help" others. You can sign in using your existing credentials (if you are already using the app), login with LinkedIn, or login using an email address that Bucknell has on file for you. Top Features include:

"Alumni Nearby" map
Filter your search by class, industry, company, Greek affiliation and more!
Provide updated contact information

Handshake: tackle the 10-Day Handshake Profile Challenge and be ready to take advantage of networking, connecting, and applying to internships/jobs at the start of the Fall semester.

Find a Mentor: Mentors are individuals who can provide career support, advice, inspiration and encouragement. They are often in the same industry in which you are completed an internship, will intern in or want to learn more about and can be anyone, usually at a career level or more ahead of you. While some organizations you study and work at will have formal mentor programs, finding your own mentor allows you to really connect with someone who is the best match for you for any number of reasons. Keep reading for 5 steps to do so. Anyone can find their own mentor by following some basic steps. This podcast episode Mentorship: A Career Game Changer from NPR Life Kit and the article Ten Tips for Finding a Mentor from The Muse provides several.
You don't have to do it all but we hope this list of ways to keep your career plans moving forward helps spark some ideas and motivation – and of course, relax and have some fun!
We'd like to know of your plans or if you are still interested in learning about/seeking internship opportunities for the summer – Take 5 minutes to complete our 2021 Summer Experience Survey on Handshake!
And stay in touch with us on Instagram, Twitter, and Facebook.