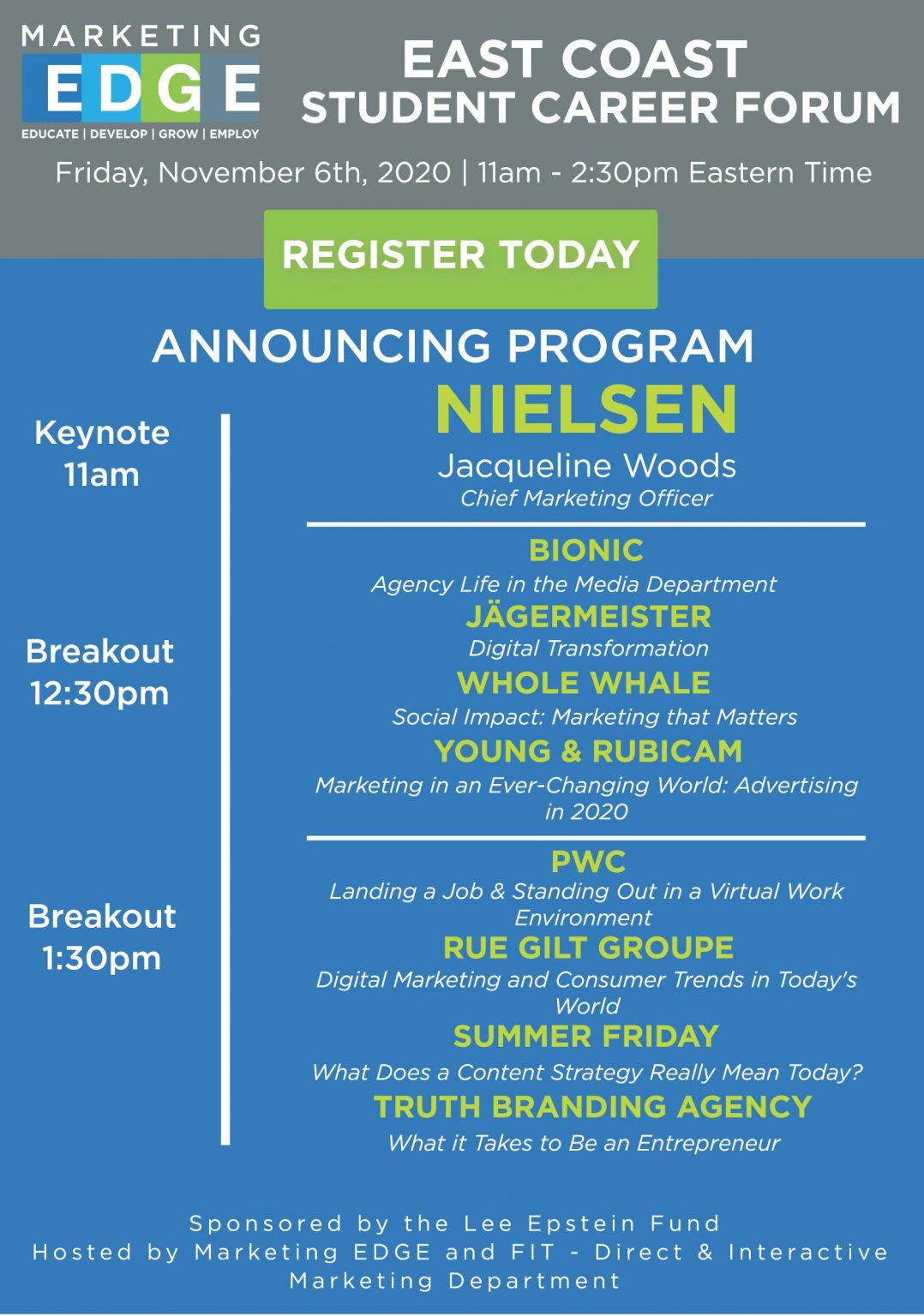 Friday, November 6th, 2020 | Register
Are you interested in a career in marketing and media? If yes, Marketing EDGE's career forum is the perfect place to start! On Friday, November 6th, EDGE is hosting a virtual career forum for students interested in marketing roles. Marketing EDGE is a non-profit that aims to help students, academics, and business leaders get ahead in their industry by connecting them to helpful resources and relationships. EDGE's career forums are a great opportunity for students to delve into the marketing industry and connect with industry professionals.
The upcoming East Coast Student Career Forum features a keynote speaker followed by breakout sessions with industry leaders such as PwC, Summer Friday, and Jäigermeister. The best part? The forum is free (with an encouraged donation of $5), and attendees are eligible to apply for Marketing EDGE scholarships.
The forum's keynote speaker is Jacqueline Woods, Chief Marketing Officer of Nielsen, a global data measurement firm that provides useful insights and information across all industries. The breakout presentations that follow are presented by companies in a variety of marketing spaces, such as non-profits, consumer goods, and media agencies. The breakout sessions touch on topics such as agency life in the media industry (Bionic), what it takes to be an entrepreneur (Truth Branding Agency), and digital marketing and consumer trends (Rue Gilt Groupe). The wide variety of breakout sessions means there's something for everyone and allows for a holistic overview of life in the marketing and media world. The forum allows students to network with industry professionals, get career advice, and gain access to exclusive EDGE resources.
Whether you're a marketing major or just have a general interest in the industry, this career forum is a great place to start building relationships and keeping up with industry trends! More information and registration for the forum can be found here!
Thanks to our Career Intern Kirstin McKeown for covering this event.