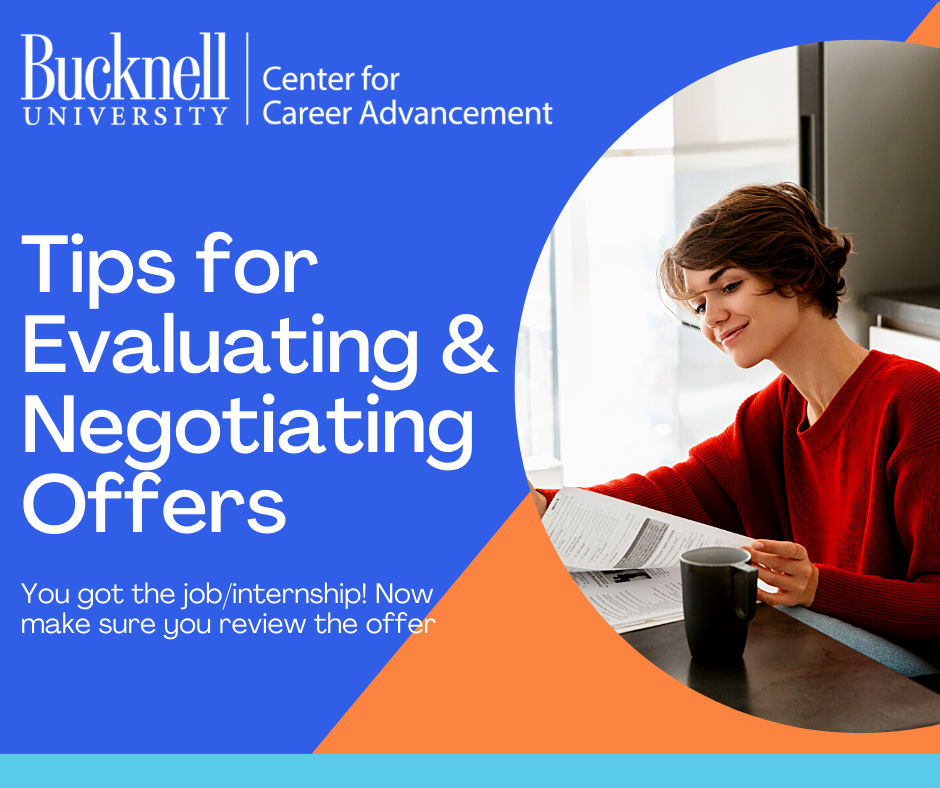 Job and internship searches require diligence, effort and preparation. You do the hard work in applying, researching and interviewing with potential employers, and when the offer is made you celebrate your success in receiving an offer. The crucial final step is taking the time to review the offer and determine what it actually means for you. This process can sometimes seem daunting, but it is essential and requires time and thought.
There are many details to review when you receive a job or internship offer – it's not just about your salary. Here 10 important elements to consider:
Start date
Job responsibilities, duties and tasks
Workplace culture and environment (core values of the organization, mentoring opportunities, supervision, the size of dept/division/organization)
Salary and opportunities for promotion and career pathing
Healthcare benefits and retirement savings plans (for full time offers)
Additional benefits such as relocation allowance, vacation time accrual, profit sharing options, and tuition reimbursement programs (for full time offers)
Geographic location/cost of living factors
Work day/work week expectations
Onboarding and continued training and professional development opportunities
Performance evaluations (and their impact on potential salary increases)
If you need help in learning how best to evaluate an offer, schedule a confidential appointment through Handshake with a career coach. We are here to help you review your opportunity and discuss important points (juggling offers, competitive salary averages, benefits) that will ultimately help you make your decision of whether to accept, negotiate or decline the position. Coaches will also work with you to determine if and how to best approach any conversations to negotiate your start date or salary you may consider, as well as walk you through how to ask for an extension if you need more time to make a decision.
Last important need-to-know: once you accept a job or internship offer you should no longer interview with other employers. This circles back to ethics and integrity. You have made a commitment to work for a specific employer and you should honor your commitment. Notify any other employers you were interviewing with that while you were very interested in their opportunity, you have accepted an offer with another organization and need to withdraw from further consideration. Rescinding an offer reflects poorly upon your reputation and it may also negatively impact Bucknell and future opportunities for your peers.