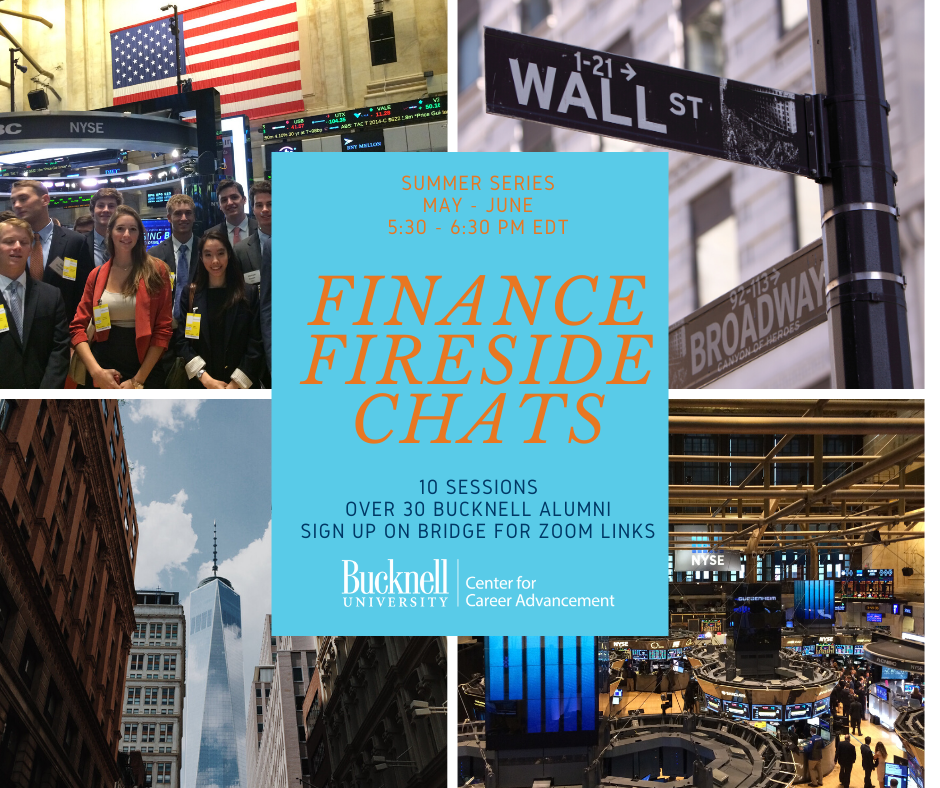 5:30 – 6:30 pm EDT | Sign up on Handshake to get the Zoom link!
Managing your summer requires strategy and preparation. Join us to hear what is expected by employers, how to make the right impression, and what not to do.
Panelists: Aaron Ball '20 (Houlihan Lockey – DC), Deb Cox '20 (E&Y Financial Transactions Advisory), Julia McAleese '20 (UBS Wealth Management EQ Research), Michael Murphy '20 (Sun Trust IB – Atlanta), Sam Ritter '20 (Stifel IB)
Learn from a panel of Bucknell students who have all succeeded in landing competitive Wall Street summer internships at the most prestigious firms.
Panelists: Helen Fish '21 (Goldman IB), Emily Fisher '21 (Goldman CIMD), Matt Novak '21 (BAML IB), Brian Rubenstein '21 (Houlihan Lockey IB), Kyla Spence '21 (Morgan Stanley IB), Emily Spitz'21 (JPMorgan Wealth Management)
Managing your summer requires strategy and preparation. Join us to hear what is expected by employers, how to make the right impression, and what not to do.
Panelists: Lizzie Baker '20 (Blackrock Finance), Casey Friend '20 (Goldman Business Analytics), Emily Robosson '20 (Goldman Securities), Charlie Shefrin '20 (Goldman IMD) and a representative from JPMorgan Markets from Bucknell 2020
May 19 – Wealth Management & Private Banking
Bucknell alumni will share their experiences starting out in the business and managing the personal portfolios of clients in these challenging times.
Panelists: Lane deCordova '16 (Morgan Stanley – NYC), Fiona Risom '19 (JPMorgan – Greenwich), Robb Scott '13 (Brown Brothers Harriman – Boston), Claire Greenhalgh '18 (JPMorgan – DC)
May 20 – Finance Fireside Chat: A Day in the Life of an Investment Banking Analyst
Coverage team bankers from Morgan Stanley will discuss daily responsibilities and typical assignments, excel modeling projects, and client presentations in which the analyst plays a critical role.
Panelists: Kortney Klingert '18, Analyst – Healthcare and Melissa MacPherson '19, Analyst – Global Power & Utilities, Investment Banking
May 21 – Investment Banking: Bank of America Securities
Join Equity Capital Markets and Investment Banking professionals discuss their roles and responsibilities in the delivery of services to clients. Important information on the recruitment process will be shared to help you prepare for the upcoming season.
Panelists: Loren Jablon'15, Associate, Real Estate, Gaming and Lodging, IB, and Josh Plump'13, VP, EQ Capital Markets, Bank of America Securities
May 26 – Virtual Prep for Recruitment and Summer Internships
Learn how investment professionals construct and manage customized multi-asset class portfolios seeking to meet their unique institutional client objectives. Gain knowledge on how to develop market insights, implement and manage allocation strategies including tactical investment decisions and the specific application of risk management strategies and processes.
Panelists: Sydney Battista '15, Associate and Carlin Calcaterra '10, Vice President, Goldman Sachs Asset Management, Global Portfolio Solutions
May 27 – Growth and Career Opportunities in the Private Credit Markets: Capital Dynamics
(please note date change: originally scheduled for May 28 now May 27)
Learn about the private credit markets and energy infrastructure investing from Bucknell alumni at Capital Dynamics which was named 2019 Global Energy Private Equity Firm of the Year by Private Equity International.
Panelists: Zach Crowley '16, Senior Analyst, Private Credit; Joe Nano '16, Associate; Nicki Rutishauser '17, Associate, Clean Energy Infrastructure
June 2 – Investment Banking: Piper Sandler
The newly merged Piper Sandler represents one of the broadest and most complete full service investment banking platforms on Wall Street complemented by one of the largest securities distribution and trading franchises with market leading research aligned to serve the middle market. Come meet former Sandler bankers and learn about their experiences in banking.
Panelists: Jenna Laezza '19, Analyst; Jack Gregor '18, Analyst; Natt Mittag '07, Director, Andrew Kinell '08, Director, Financial Services Group
June 3 – Investment Banking at Jefferies
Panelists: Charlie Niehaus'18 and Chris Esernio'19 will share their experiences as Analysts in Investment Banking at Jefferies
June 4 – Fixed Income Trading: Morgan Stanley
Are you interested in the markets and understand Fixed Income products? Do you know what traders do and what skills are used in this role? Alumni with experience in trading corporates, mortgages and other debt products will speak to their day to day responsibilities, their partnership with sales, and the management of client orders in this volatile market.
Panelists: Rebecca Baptiste-Forbes '17, Fixed Income Trading Associate and Evan Bernstein '17, Agency Mortgage Trading Associate