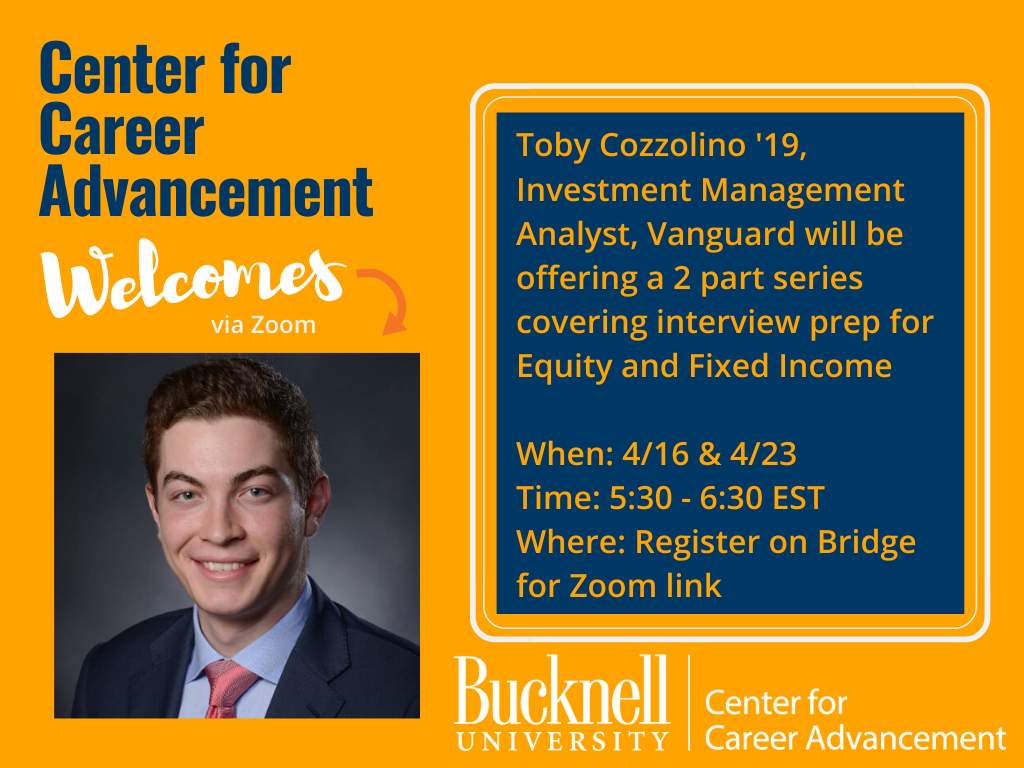 Do you have an upcoming securities internship or markets related interview? Are you considering a Sales & Trading, Investment Management, Equity Research, Wealth Management or Asset Management career? You need to attend this!
Join Toby Cozzolino '19 for this two part series to learn more about how to prepare for interviews requiring market knowledge and designed to cover the essentials needed for success:
April 16, 5:30 – 6:30 pm EST: Session 1 – Equity Preparation

Short stock pitch structure, what to focus on in following the markets, valuation methods and basics, etc.

April 23, 5:30 – 6:30 pm EST: Session 2 – Fixed Income Preparation

Bond basics, fed basics, economic data, risk metrics, taking a market stance, etc.
Sign up on the Bridge for the session(s) you would like to attend to get the Zoom link.
There will be a small amount of overlap to show how those who work in either asset class may view the same information in a different light. It is highly recommended you attend both sessions. This is a great refresher and/or a terrific introduction to what you need to know.
To gain the most from these sessions there is some pre-work recommended. To view the pre-work and sign up to attend sessions log on to the Bridge.
More about Toby:
Toby graduated from Bucknell in 2019 with a degree in Accounting and Financial Management (CFA Track). During his time at Bucknell, Toby co-led the Bison Investment Club and interned with the university's investment office for two years through the Undergraduate Executive Intern Program. Prior to graduation, he held internships at Signature Securities Group and The Vanguard Group. As part of Vanguard's two-year rotational Investment Management Development Program, Toby spent six months with the firm's equity trading desk and is currently rotating with the fixed income investment risk team. He is a CFA Level II candidate who enjoys sports betting and woodworking in his free time.