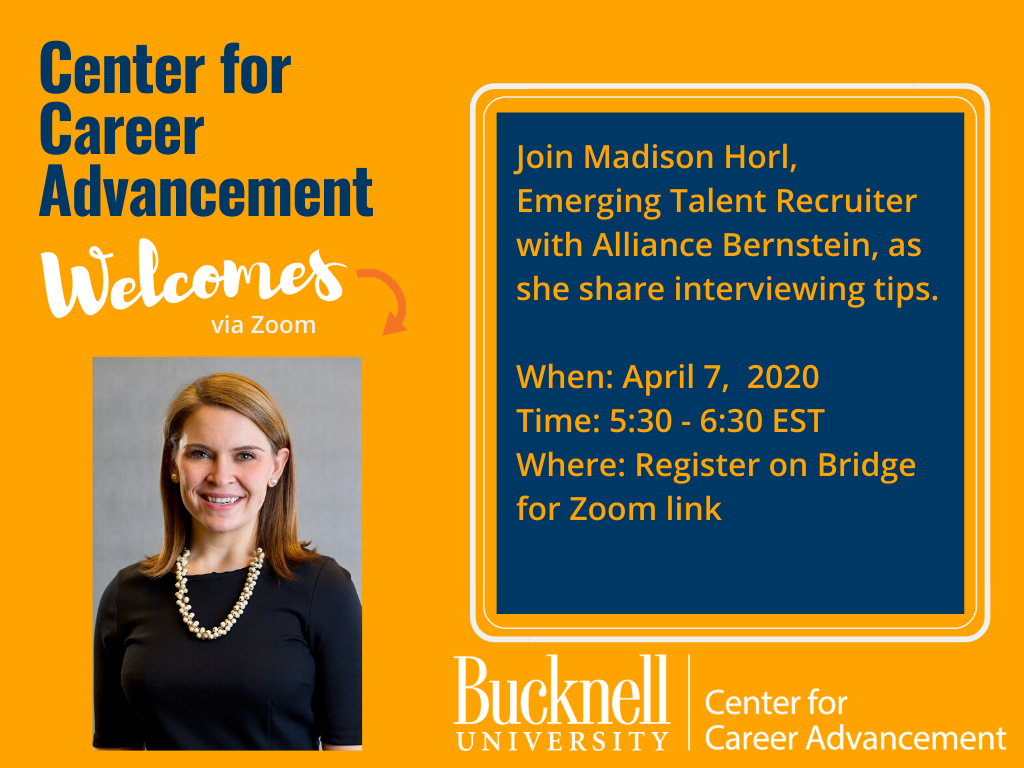 Join Madison Horl, Emerging Talent Recruiter with Alliance Bernstein, for a Zoom session on Interviewing Tips. Learn from an experienced recruiter tips on understanding how to relate to the person who in interviewing you and to build a connection within the first few minutes of meeting.
Tuesday, April 7, 5:30 – 6:30 pm EST, via Zoom
Sign up on the Bridge to get the link!
A key to interview success is understanding how to relate to the person you are meeting. How often do you think about the personalities of the interviewers that you interact with? In this session, you will learn about four personality types, how to identify them, and how to have more meaningful conversations to drive your ideal outcome – that summer internship or full time job. Come hear this experienced recruiter share her insights and knowledge about interviewing.
Students attending should send their resumes to kck003@bucknell.edu
We are in the process of planning additional Finance Fire Side Chats so please look out for future programming on the Bridge as we hope to offer several more on a variety of finance topics such as: How to deliver a Stock Pitch; Tips for the Investment Banking Technical Interview; How to Thrive and Survive Your Summer Internship; etc.