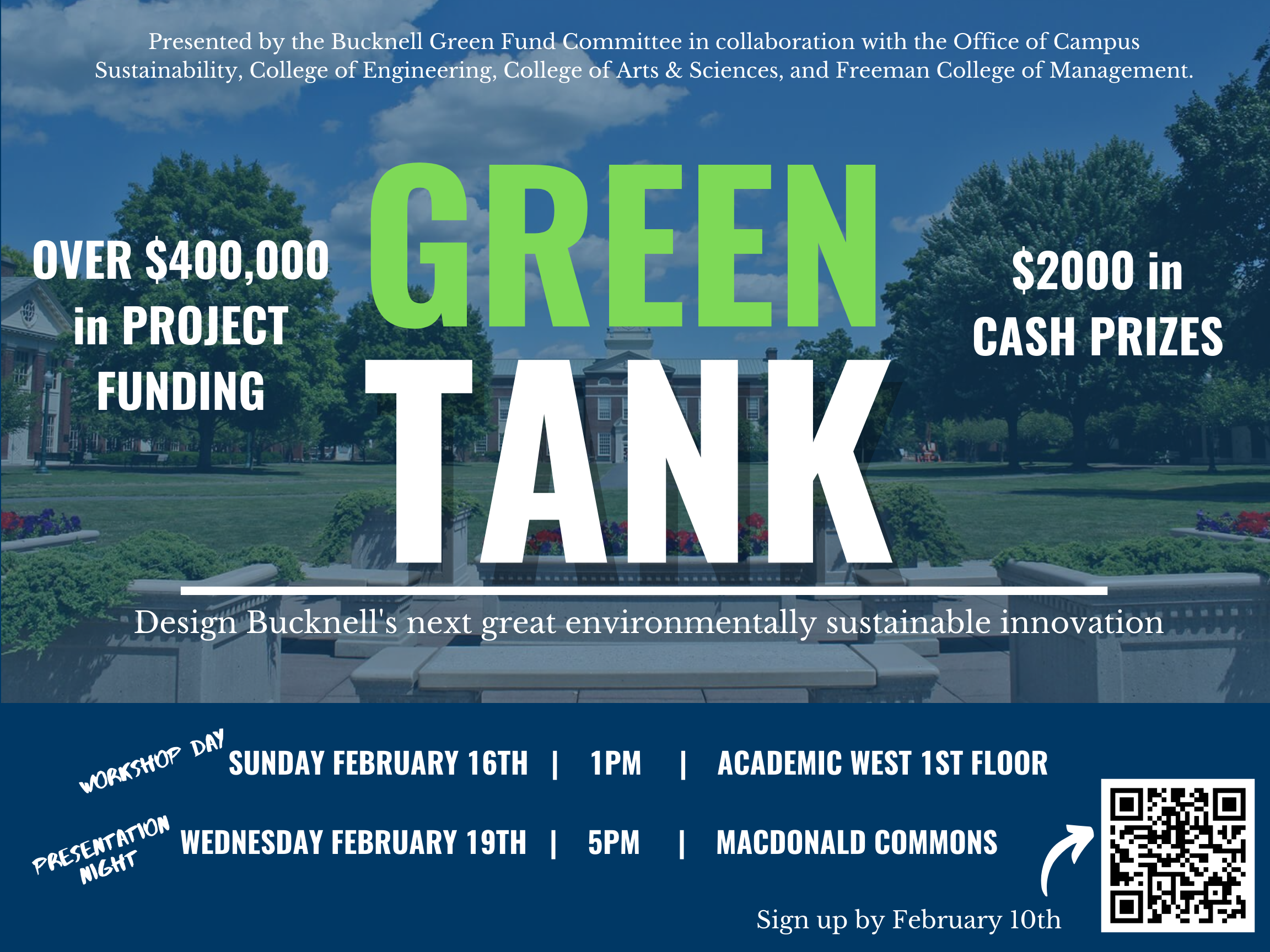 The Bucknell Green Fund is offering an innovative opportunity for students to get involved in the creative designing process of developing environmentally sustainable projects for our campus. "Green Tank", a two-part event, will be an excellent experience and resume builder. Sign up to participate by February 10th!
WORKSHOP DAY (Sun. Feb 16th @ 1pm)
On Sunday February 16th, students will arrive at 1pm to participate in a guided brainstorming session around waste, energy usage, and other sustainability issues that the Green Fund could help solve. Students will form teams around potential project ideas that emerge throughout the discussion. They will then have the opportunity to work in those teams to create feasible concept proposals for the Green Fund to consider.
To sign up at https://forms.gle/RXh3zXTprXLW9eJ1A
PRESENTATION NIGHT (Wed. Feb 19th @ 5pm)
On Wednesday February 19th, participating students will have the opportunity to present their concept proposals to the Bucknell community at a competition-style presentation event. Teams will present their proposals and a judging panel consisting of the Green Fund Committee Chair, a Senior Student, and Bucknell Alum will vote on the proposals. We are awarding $2000 in cash prizes and providing up to $400,000 in project funding! Students will have the opportunity to work directly with the Campus Energy Manager in developing and implementing the winning concept proposals, if they wish.
Learn more about the Bucknell Green Fund → https://www.bucknell.edu/life-bucknell/sustainability/green-fund