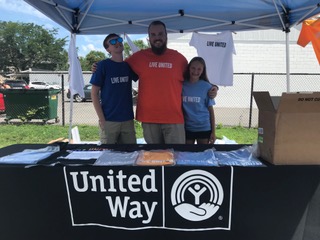 Richard Stover '20 
Community Impact Intern
Greater Susquehanna Valley United Way 
Sunbury, PA

Major: Sociology

What is the most interesting or important thing you took from your Internship this summer? 
Experiencing how a successful nonprofit is run and getting to interact with local community partners, as well as sitting in on multiple subcommittee and board meetings.  This gave me a real sense of the problems the area is facing on a more practical level.      

I spent my internship doing data analysis of local trends in opioid use and overdoses, working closely with local professionals and elected officials, to help inform policy from the United Way.  I also was one of the first to use the recent ALICE (Asset Limited Income Contstrained Employed) data released by National United Way to help inform policy and local solutions for families who make enough money to be above the poverty line yet can't afford to live comfortably, a serious issue in our area.  I was one of two interns who drafted a proposal for submission to SAMSHA for the Drug Free Communities Grant, a federal grant which would allow the United Way to implement effective and evidence base programming in the Lower Anthracite Area.  I worked closely with the Director of Community Impact helping to implement better measurements of outcomes for local nonprofits that the United Way fund, as well as helping to lean out the application process for said nonprofits.  As a joint project with the United Way, Bucknell, and other local agencies, I am and continue to be a visitor to SCI Coal Township, where a group of men with life sentences continue to hold meetings where we think about re-entry policy for the local area and aid them in seminars that they hold inside the facility related to trauma.             
How did the BPIP Fund help make your experience possible?Without the funding from BPIP I would not have been able to stay over the summer and live comfortably, and further I would not have been able to have this experience.          
Why would you recommend the BPIP Fund? 
Because it's a fantastic way to get involved with agencies that are doing things that resonate with you.  It's also a great way to get a meaningful internship that will open up many doors for you because you network with a lot of people.                               
More about Richard: Richard is from Lewisburg, PA and is involved with the Interfaith Council and College Dems on-campus.
More about BPIP: The BPIP Internship Fund is a competitive summer internship program that provides $3,000 scholarship to selected undergraduate students who have secured unpaid internships in the nonprofit, and public service sectors. Information sessions will be held throughout the academic year and the deadline is mid-March. Students must have secured an internship before the deadline.