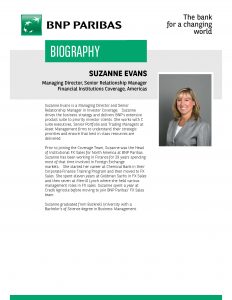 Meet Suzanne Evans '88, currently a senior executive and relationship manager at BNP Paribas and former head of FX Institutional Sales in the Americas at BNP Paribas and Merrill Lynch. She will share insights about the industry and career paths – come prepared to drive the conversation!
Tuesday, January 29 – RSVP on the Bridge for these events by 1/27

Lunch & Learn co-sponsored by the Women in Finance: Noon – 1:00 pm, ACWS 112, RSVP on the Bridge 
Dinner co-sponsored by the Financial Markets Club: 5:30 – 7:30 pm, MacDonnald Commons, RSVP on the Bridge 

Wednesday, January 30

One-on-One Informational Chats: CDC 2nd Fl, submit resume on the Bridge for a chance at this opportunity
To submit resume for one-on-one meetings search "Wall Street Speakers Series" in the Employer section on the Bridge.