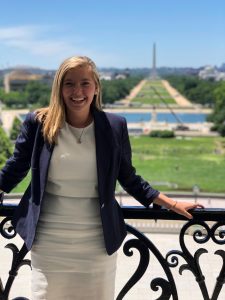 Laura Bart '19
Major: Environmental Studies and Political Science
Internship: Representative Sean Maloney (D-NY-18) in Washington D.C.
Here's what Laura had to say about her internship this summer as part of the Capitol Hill Internship Program:
This summer I had the opportunity to intern in D.C. for Congressman Sean Patrick Maloney, who represents my home district NY-18. I'd been a fan of his since high school when he first ran for office. I was overjoyed at the opportunity to represent my family, friends and home district and work for someone whose ethics and values I had admired for so long. After returning from a semester abroad in Copenhagen, Denmark I quickly packed up again and moved down to D.C. to live like a college student again in one of the George Washington University dorms in Foggy Bottom. My location was a 10-minute walk to the Foggy Bottom metro station where each morning, I would find myself in a sea of interns- most heading to the same place to get off at the Capitol South station and march over to our various offices on "The Hill." Though I was far from Lewisburg, Bucknell felt closer than ever, as I was lucky enough to be surrounded by several other Bucknell students who were in D.C. for the summer, some even living in the same dorm as me or working on the Hill as well. My fellow interns and co-workers were always impressed with how many people I seemed to know after just starting this summer, as I'd often run into Bucknell friends in passing throughout the halls of the House and Senate buildings while on various errands.
There was never a dull moment in my office, which was staffed with bright, young professionals all under 30 who were full of ambition and energy and gave me a reason to come in and work hard. That's one of the most surprising things about the Hill that I learned this summer- basically everyone is under 30. That's right, though it may not seem like it our government is pretty much being run by a bunch of mid 20 year olds who function off of black coffee and are never caught without at least two iphones in their hand. I felt honored to be surrounded by such smart and hard working individuals. With CNN playing non-stop on the TV in our office (except for out of session days when we switched to HGTV and Food Network), it was impossible not to stay up to date on current events. Not only that, but one of the biggest parts of my job was answering constituent phone calls. There could not have been a better way to stay informed on what people are concerned about than by actually talking to them about it day in and day out. Some people were mad, others sad, sometimes they were really happy (this was rare) but everyone just wanted to be heard. I took pride in being able to make someone feel like they had made a little bit of a difference just by taking the time to listen to them and validate their concerns.
One of the highlights of the summer was being in the office for what became known as "tampon-gate". Essentially, when my congressman tried to use our office supply budget to buy tampons for our majority female staff, the House administration committee denied him based on the claim that these weren't considered a necessity. So he fought back. In a whirlwind of a week, we filmed multiple videos and sent tweets and press releases about our fight back to House Admin and our fight to free the tampon. We were getting calls from TMZ, the Washington Post, NY Times and more, with reporters calling in and awkwardly asking to speak to our communications director about "the uhh..'tampongate'". I was overwhelmed with pride to be working as part of an office that took the time and effort to fight for these kinds of issues that are so important and often overlooked.
Overall, this summer I got a sneak peak of what it was like to live in D.C. and work on the inside scene of politics, which helped me realize both of those are things I could see myself pursuing in the future post-graduation. Aside from the much-needed life guidance, I got to meet some really great new people who I'll hopefully keep in touch with if/when I come back to D.C. , figured out the D.C. metro system, ran my first 5K, learned how to give tours of the Capitol, and for sure got some great new LinkedIn headshots.
Here are a few more pictures:
More about the Capitol Hill Internship Program: The program was established in 2005 to provide internship opportunities in Washington, DC or local Congressional districts for students who are interested in learning more about the Legislative Branch. This program provides a stipend of $300 per week up to a maximum of $3,000 for the summer for students who are able to secure an unpaid, non-credit internship. The program is open to all class years (including graduating seniors) and the deadline to apply is in late November/early December each year.