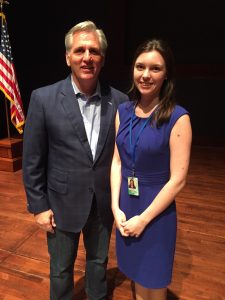 Victoria Walker '18
Major: Political Science & International Relations, with a focus on Foreign Policy and Diplomacy
This past summer, Victoria interned for ten weeks in the Washington, D.C. Office of Representative Lou Barletta of Pennsylvania's 11th District. Her office was located in the Rayburn House Office Building, but she spent a great deal of my time in the Capitol and moving between other House and Senate buildings. Here's more about her experience as a Congressional Intern for Representative Lou Barletta.
How did you find your internship?
Having worked close to home for the past few summers, I went into my internship search with the intention of finding something completely new and exciting. I was also hoping for an experience that would tie into my field of study and give me an indication of where to start my career search. After receiving emails from the CDC about the Capitol Hill Program, I sought out more information from friends and heard nothing but great things about the program and interning on the Hill in general. I decided to apply to the program and worked closely with Marilyn Shull and the staff at the CDC to finalize my application.
After weeks of anticipation, I was accepted to the program over winter break. Bucknell put me in contact with a representative from McAllister and Quinn, a D.C.-based consulting firm that gave me some great advice on where to apply and how to follow-up. I combined this information with some research of my own and ended up applying to about thirty offices, including those of various Senators, Representatives, and Committees. After a few weeks of keeping in contact, I received my first interview requests.
At this point, I once again worked with the CDC, taking part in a student-alumni mock interview program that helped me to identify some of my strengths and weaknesses in phone interviews. I completed two actual interviews before accepting the first job offer I received!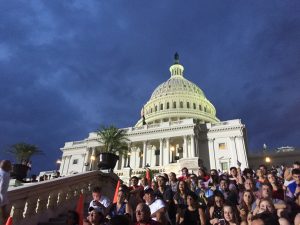 What did you enjoy most about your internship?
Interning on Capitol Hill was an amazing experience, largely because of how many opportunities it opened up for me. I spent most of my day in Representative Barletta's office, where I developed an understanding of the inner-workings of the legislative branch and where I greatly benefited from the individual guidance and mentorship of numerous exceptional people. My intern coordinator was always willing to give me advice on both the work at hand and my career goals, and I got the chance to learn a bit about all of the different positions in the office.
At the same time, my internship pulled me into the much larger community of Capitol Hill. I had the opportunity to meet a number of prominent politicians, as well as many of the people who work behind-the-scenes to write the policies they promote. There were lectures, policy briefings, and events to go to every day, some aimed at interns and others open to a wider audience. While attending these events, I got to meet students from all over the country who shared many of my interests and who brought new perspectives to the issues I learn about in my classes here at Bucknell. I also had the chance to speak with constituents over the phone and to write letters to many individuals on behalf of the Congressman.
What I enjoyed most about my internship was having the opportunity to interact with and learn from such a broad range of people, both in Congress and in the city. I met up with friends from Bucknell, connected with the regional alumni chapter of my sorority, found three amazing roommates by signing up for a random quad, and ultimately developed a better understanding of the diversity of perspectives both in D.C. and in the PA towns that I worked to support.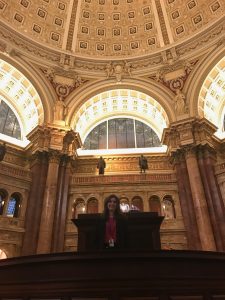 What was the most difficult aspect of the internship?
The most difficult aspect of the internship was definitely the application process. I knew that I would put all of my effort into whatever position I received, but I was nervous from the beginning that I would not get any callbacks because of how competitive many of the positions I was applying to were. I put a lot of time into my applications, but I probably could have done a better job of balancing these with schoolwork, activities, and sleep. However, the CDC was phenomenally helpful and Bucknell has a great alumni network, which I definitely utilized. Still, getting a job offer the day after my second interview was definitely an incredible relief.
Following that, I would say the next biggest challenge was taking advantage of everything the position had to offer. A lot of the work that legislative interns do is very secretarial, and it's easy to fall into the motions. Some days there would be a lot of work to do and a lot of calls the answer, but that was not always the case. I figured out pretty quickly that the more work I asked for, the more significant that work would become and the more I would learn from it. Thus, I made an effort throughout the summer to schedule in advance, balance lectures and receptions with time in the office, and be the intern who was always ready and available to take on extra work.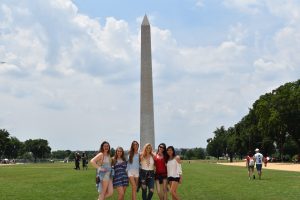 What tips do you have for the internship search?
Start early. It takes a good deal of time to figure out where you're applying and to send out applications, and it's all much less stressful if you feel on top of it. Reaching out to references as early as possible is a good idea, especially if they plan on specifying your recommendation to various different jobs. I would also suggest planning your living situation early if you have a general idea of where you are going to be. I booked a room at George Washington University before I even had an internship, which ended up saving me a lot of money and hassle later down the line. Just be sure to look into the refund policies before you put a big deposit down!
Upcoming Capitol Hill Internship Program Info Sessions:
Tuesday, September 26 at 5 pm in ACWS 116
Monday, October 23 at 5 pm in ELC 217
Tuesday November 7 at Noon (Lunch served!) in ELC 304 – with McAllister & Quinn
Tuesday, November 7 at 6 pm in ELC 241A 
Wednesday, November 15 at 4:30 pm in ELC 217
The deadline to apply is Monday, December 4.