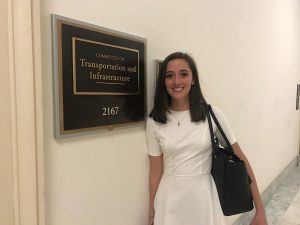 Caroline Kehrli '18
Major: Political Science
Minor: History & Spanish
Internship: The House Committee on Transportation and Infrastructure and the Office of Congressman Bill Shuster (PA-09)
How did you find your internship:
As part of Bucknell's Capitol Hill Internship program, I worked with a representative from McAllister and Quinn, a DC consulting firm, who offered suggestions of several congressional offices and committees where I could apply. Congressman Shuster's office was one of those suggested.

Describe your internship:
I was very fortunate in that Congressman Shuster is the Chairman of the House Committee on Transportation and Infrastructure, one of the largest congressional committees responsible for overseeing our nations aviation system, highways, railroads, and Coast Guard. Because of this, I was able to spend the first half of my internship with T&I and the second half in Chairman Shuster's personal office. Working on a committee and working in a personal office are two very different experiences, so it was great that I had exposure to both during my summer on the Hill.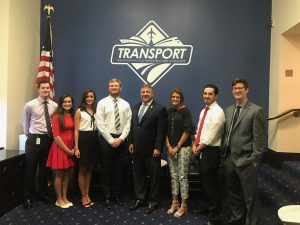 During my time with T&I, I was able to take part in a bill markup for the 21st Century Aviation Innovation Reform and Reauthorization (AIRR) Act. Seeing firsthand how a major bill is amended and moved through a committee was a truly invaluable experience. In Congressman Shuster's personal office, I dealt directly with constituents of Pennsylvania's 9th district, answering phone calls, drafting letters regarding legislation, and giving tours of the Capitol building.  I was also able to attend several hearings and draft memos regarding defense and national security issues.
My experience this summer has helped define the path I plan to take following graduation in May.  
How did the Capitol Hill Internship Program help make your experience possible?
The Capitol Hill Internship Program was crucial to my internship experience. Securing a job on the Hill can be a bit overwhelming, so working with the CDC and McAllister and Quinn undoubtedly helped guide me and ultimately land me a position on the Hill. Also, the funding provided by the program allowed me to move to Washington DC and reduced the financial burden that often comes with interning on the Hill.

I'd encourage anyone who is interested in learning more about government and politics to apply to the Capitol Hill Internship Program. Working on the Hill was an unbelievable learning experience that would not have been possible without the help that this program offers.
More about Caroline: Caroline is from Park Ridge, NJ. On campus she is a Senator and Chair of the Public Committee for Bucknell Student Government, staff writer for The Bucknellian, member of Delta Gamma, and member of the Irish Step Dancing club.  She previously interned at Fox Business Network.
Learn more about the Capitol Hill Internship Program