Maddie Picher '18
Major: Human Diversity in Education
Minor: Public Policy
Internship: United Way, Community Impact Intern
What is the most interesting or important thing you took from your Internship this summer?
So far, it has been that I've understood how a big non-profit like United Way is run. How the different departments fit together and work together to accomplish a bigger mission.
Please describe your experience: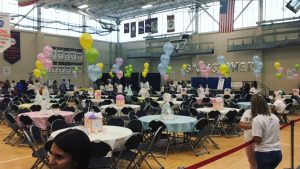 I've been working as a program manager for their outsourced programs (such as the Community Baby Shower, held for 250 families and pictured here). Also, I've gone to the Massachusetts State House, where I've listened in on Early Childhood Education hearings.
How did the BPIP Fund help make your experience possible?
It added to my networking abilities to meet more Bucknell Alumni in the field I'm hoping to go into!
More about Maddie: At Bucknell Maddie is involved as the VP of Public Relations for Panhellenic Council, a Bucknell Calculus Tutor, Study Abroad Peer Mentor, and Onwards Campus Ambassador. 
More about BPIP: The BPIP Internship Fund is a competitive summer internship program that provides $3,000 scholarship to selected undergraduate students who have secured unpaid internships in the nonprofit, and public service sectors.  Information sessions will be held throughout the academic year and the deadline is mid-March. Students must have secured an internship before the deadline.