Want an internship in NYC this summer? Then our latest CDC Intern Picks are for you!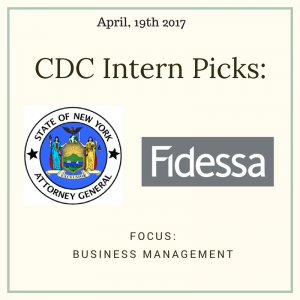 Business Operations Intern, Office of the New York State Attorney General, New York, NY – Apply by May 5
Electronic Execution Product Management Intern, Fidessa Corporation, New York, NY – Apply by June 1

There are many Summer Business/Management opportunities available to students this summer that can be found on the Bridge. One of those in a Business Operations internship with the Office of the New York State Attorney General.
While working directly in NYC in the State Attorney General's Office, one will have the opportunity to explore and actively participate in the operations of business and management of a large law firm that is also a government agency. The position is open to all students with varying experience, however, business analysis and/or project management skills are a plus. The office is looking for applicants that are self-directed, creative thinkers, have excellent research and writing skills, as well as an eagerness to assist with all duties asked of them. Applicants must be able to work a minimum of fifteen(15) hours/week and up to thirty-five (35) hours. Preferred start date is June 5th and will last at least eight (8) weeks. Applications are due by May 5th and can be found at the following site which is also posted on the Bridge. Learn more about the position as well, on The Bridge, including what needs to be included in your application.
Business Operations Internship, NY State Attorney General's Office, New York NY – Apply By Friday, May 5th, 2017
This next summer opportunity also gives students interested in Management the chance to explore the electronic side of the field rather than financial.
Fidessa is a globally innovative company with a passion for delivering high performance solutions to the finance industry, from global institutions and investment banks to boutique brokers and niche hedge funds. Although not working directly in finance, interns working at Fidessa will be responsible for creating detailed requirement based specifications which drive the development of their strategic electronic trading products. Other responsibilities of summer interns include but not limited to running a series of defined analytics against historical market data and Evaluate effectiveness of the algorithms' various trading signals calculated from the analytics. If you are interested in a dynamic and fast-paced environment where you work as part of a team and make an impact you should definitely apply for this opportunity which is directed toward Computer Science and Math majors, but open to all majors. Be sure to check out the Bridge to find the online application link and more information about the position!
Electronic Execution Product Management Internship, Fidessa Corporation, New York, NY – Apply by Thursday, June 1st, 2017


We highlight a few CDC Intern Picks that we think you'll find particularly interesting every week.  Learn more by checking out each pick on the Bridge. And while you're there, see what other interesting opportunities you find! If you have any technical difficulties with your application, email recruiting@bucknell.edu before the deadline for help.