April 20th | Noon | ELC Center Room
Lunch provided, RSVP on the Bridge by 4/19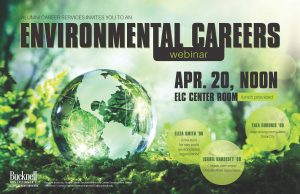 Our Alumni Career Services is hosting an online webinar featuring an Environmental Careers Panel. This webinar features 3 Bucknell alumnae who will share information about their backgrounds as well as advice for those interested in careers in sustainability.
Join us to hear from:
Thea Gudonis '09, Solar Energy Consultant, SolarCity
Isabel Hardesty '08, is Chester Riverkeeper at the Chester River  Association, acting as leading advocate for the protection and restoration of the Chester River watershed.
Eliza Smith '98, has represented non-profit clean-water organizations, founded and served as Executive Director and Waterkeeper at Baltimore Harbor Waterkeeper and is currently a consultant for non-profit environmental organizations.
Gain insight into possible careers in the environmental sector related to consulting and environmental law and policy with this chance to hear from 3 Bucknell alumnae about their career paths and experience working for various organizations. Panelists will also share advice about finding work in the environmental sector and there will be a chance to submit questions that the alumnae can answer at the end of the webinar.
And did we mention FREE LUNCH? Then come join us because we'd hate to waste food on Earth Day! RSVP on the Bridge by 4/19.