Join us for a lunch with an alumnus Richard Wormser '55 who was a Political Science major at Bucknell and later pursued a Masters of Arts from Fordham and became an entrepreneur in the arts/media cinematography world. Mr. Wormser currently teaches teaches sociology and film studies at several universities.
Friday, April 14 | 12 -1 pm | ELC Center Room
Lunch Served – RSVP by 4/11
As a student, Richard Wormser '55 paid little attention to the complicated world beyond campus. Since the 1960s, he has dedicated his career to making up for it.
He has written, produced and/or directed some 40 documentary films that have received more than 25 awards, including the Peabody Award. His latest film, "American Reds: What Must We Dream of?" focuses on the rise and fall of America's Communist Party between 1930 and 1960. The program is intended for broadcast on PBS next year. He teaches sociology and film studies at several universities.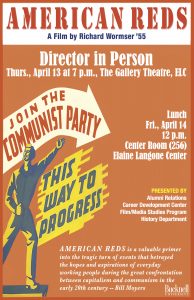 BEFORE THE LUNCH: Mr. Wormser will present his recently completed documentary American Reds on Thursday evening at 7pm in ELC Gallery Theatre.  A chronicle of the vision and blindness of the American Communist Party between 1930-1960, the film tells the dramatic story of Party members' struggle for workers rights and against racism and fascism in the 1930s, and their imprisonment during the McCarthy era for teaching Marxism-Leninism.