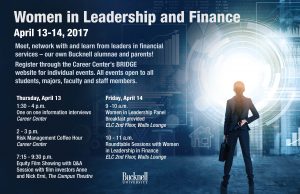 On April 13-14th, Bucknell will host a Women in Leadership and Finance Summit where students will have the opportunity to meet, network with and learn from female leaders in the financial services industry, all of whom are Bucknell alumnae and parents. Note–this event is NOT exclusive to women or students majoring in finance–all genders, majors, faculty and staff members are encouraged to attend. Leaders from companies such as: Audible; Bed, Bath & Beyond; Stifel/KBW; S&P Global and more will be in attendance.
Day 1 of the Summit will focus on educating students on the businesses the leaders manage and how their function operates in their firm and with their clients. Leaders will share stories of deals done, client interactions, and key challenges and achievements they – and their divisions – have faced. The following events will be offered to accomplish this:
One on One Informational Interviews in the Career Center from 1:30 – 4 p.m. -sign up on the Bridge
Risk Management Coffee Hour in the Career Center from 2 – 3 p.m. – sign up on the Bridge
Equity Film Showing with Q&A Session with film investors Anne and Nick Erni P'20 at the Campus Theatre from

7:15 – 9:30 p.m. – FREE!
Day 2 of the Summit will focus on leadership – definitions of leadership, how leadership skills are developed, and key factors contributing to growth as a leader. Leaders will share career snapshots, coaching and advice while delivering significant insights into the roles they play in their organizations and the impact of those roles on their firm and the industry overall. The following events will be offered to accomplish this:
Women in Leadership Panel in Walls Lounge from

9 – 10 a.m., 

breakfast will be served – sign up on the Bridge
Roundtable Sessions with Women in Leadership in Finance in Walls Lounge from

10 – 11 a.m.
Dress for all events is Business Casual.
To register for individual events and get more details, visit
the Bridge
.
Log on Quick Links (CDC) or my Career Center on myBucknell.
In left navigation blue bar, go to Events > CDC Programs.
Use keyword or date to search for program.
Select RSVP for any or all of the programs you would like to attend
This Summit is the cooperation and collaboration of the following areas: the School of Management, Development & Alumni Relations, and the CDC.