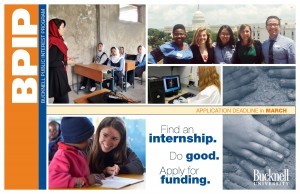 Want to learn how you may be eligible for money to help cover an unpaid internship? The Bucknell Public Interest Internship Fund provides a stipend for unpaid summer internships in the nonprofit and public service sectors. Learn more about the fund, the application process, and the amazing experience recipients have from past BPIP Internship Fund recipients.
February 1 | Noon | ELC Arches Lounge
Lunch served, RSVP on the Bridge
Student Speakers Include:
Haley Calkins '17, Project YESS, Cleveland, OH
Rileigh Casebolt '18, NY Attorney General Environmental Protection Bureau, NYC
Claire Figel '17, United Nations Foundation, Washington, DC
Cat Orientale '17, Mystic Aquarium, Mystic, CT
The BPIP Internship Fund is a summer funding resource (stipend $3,000) for students able to secure an unpaid internship in the nonprofit/public service sectors of the economy. The application deadline is Monday, March 27, 2017, and the internship must be secured by the time of the application. The program is open to first years, sophomores, and juniors who are enrolled as a full time student in the fall following the summer of their internship. Eligible internships must be unpaid and full time (8-12 weeks, 30-40 hours/wk).
Students interested in the program are asked to attend an information session, which are being held throughout this semester.