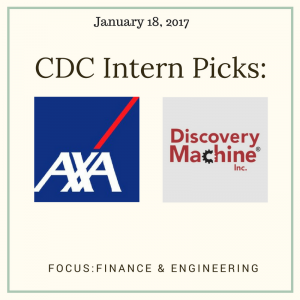 This week's topic for our CDC Intern picks include a full-time job and a position geared toward Sophomores:
AXA Advisors – Apply by Jan. 19
Discovery Machine – Apply by Feb. 6
Graduating this spring, studying finance, and you still don't have a position for next year? Then join Karr Barth Associates and AXA Advisors' team. They are offering a financial advisor mentoring program in which individuals will join their team and train for three years; advisors will learn in a with experience advisors and in a classroom setting financial needs analysis, client relations, portfolio analysis, marketing and entrepreneurship, business development, and leadership and management. Once you graduate the program, you can help build a business by helping families and businesses make strong financial decisions to impact their future positively.
Apply by January 19th, 2017 on the Bridge.
If you're a sophomore engineer interested in software engineering, Discovery Machine, Incorporated, located in Williamsport, Pennsylvania, is looking for a software engineer summer intern. Discovery Machine offers exciting, cutting edge work in the field of artificial intelligence in a relaxed environment of experienced team members. While extending into numerous application domains, this work focuses heavily on the design and development of virtual simulation for different industries. They prefer experience using Bryce, Daz Studio, Carrara, 3DS Max, Maya, Blender, or similar 3D modeling packages, but the experience isn't completely necessary to be accepted.
Apply by February 6th on the Bridge.


We highlight a few CDC Intern Picks that we think you'll find particularly interesting every week.  Learn more by checking out each pick on the Bridge. And while you're there, see what other interesting opportunities you find! If you have any technical difficulties with your application, email recruiting@bucknell.edu before the deadline for help.