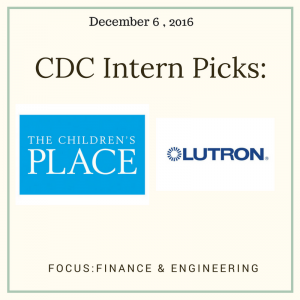 This week's topic for our CDC Intern picks highlight opportunities available at two companies that attend our fairs.
Finance Summer Internship, The Children's Place – apply by Dec. 12
Innovation Leadership Program, Lutron Electronics – apply by Dec. 17
If you're looking for an internship in finance, then apply by December 12th on the Bridge to be the Finance Intern this summer at the Children's Place. This internship is for rising seniors who will be pursuing finance in the future. For ten weeks, the intern will work on their own project while also getting hands on learning experience of the Children's Place's systems tools and processes. The intern will also get formal training in classes in presentation skills, retail math, and time management skills, as well as have discussions with the senior leadership team. This internship is paid but also very competitive, so you should apply as soon as possible.
Lutron Electronics in Coopersburg, Pennsylvania, is the world leader in the design and manufacture of lighting controls, lighting control systems and shading solutions for residential and commercial applications. There are available positions within their Innovation Leadership Program for 2017 in different aspects of engineering, including computer, electrical, software, manufacturing, mechanical, and supply chain engineering. Join Lutron's Innovation Leadership Program and you'll develop the skills and knowledge needed to win in the world of innovation. You will immediately join an engineering development team, participate in a monthly forum to share ideas, and collaborate with inter-disciplinary engineers, business managers, customers, and suppliers.
Learn about all the opportunities within this program on the Bridge and apply by December 17

th

on their website.


We highlight a few CDC Intern Picks that we think you'll find particularly interesting every week.  Learn more by checking out each pick on the Bridge. And while you're there, see what other interesting opportunities you find! If you have any technical difficulties with your application, email recruiting@bucknell.edu before the deadline for help.