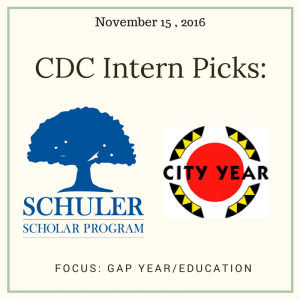 This week's topic for our CDC Intern picks focuses on gap year options in the education field with a Bucknell bonus of having alumni at both of the organizations listed below – use your network to learn more about the positions!
City Year – Apply by Nov. 27
Schuler Scholar Program – Apply by Nov. 29
City Year is an education focused, nonprofit organization that unites young people of all backgrounds for a year of full-time service to keep students in school and on track to graduation. City Year currently has programs in 28 different urban centers. As a City Year employee, you will serve as a role model for students and you will work closely with students who are at risk of dropping out by mentoring, tutoring, and supporting them. Positions provide a great opportunity to serve while also allowing you a living stipend, an education award so you can further your own education, student loan forbearance, and health care. This opportunity is perfect for anyone taking a gap year between college and further schooling.
Apply by November 27th (the position is on the Bridge but more are open on the City Year website).
Bucknell Bonus: Nicole Kennedy '09, Director of Special Projects at City Year, came back to campus on 10/19 to talk to students about City Year.
Americorps is a network of local, state, and national service programs that connects more than 80,000 Americans each year in intensive service to meet our country's critical needs in education, public safety, health, community, and the environment. In Chicago, Illinois, Americorps has linked up with the Schuler Scholar Program to provide Scholar Coaches to grades 1-12 in Chicago to help students with their work and also with transitions to high school and college. Scholar Coaches will work closely with students, tutoring them, chaperoning field trips, lead seminars with older students, and really just help close students prepare for the future. The program is a two year program, and the living stipend increases for the second year. Scholar Coaches will receive an educational award to either pay off student debts or pay for graduate school, and basic health insurance is included.
If you're interested the job is posted on the Bridge and you must apply by November 29th and be prepared to relocate to Chicago by July 17th, 2017.
Bucknell Bonus: Two alumnae were at the Employer Expo representing for the Schuler Scholar program


We highlight a few CDC Intern Picks that we think you'll find particularly interesting every week.  Learn more by checking out each pick on the Bridge. And while you're there, see what other interesting opportunities you find! If you have any technical difficulties with your application, email recruiting@bucknell.edu before the deadline for help.