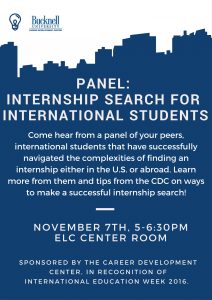 Panel: Internship Search for International Students
November 7, 5 – 6:30 pm, ELC Center Room
Come hear from a panel of your peers, international students that have successfully navigated the complexities of finding an internship either in the U.S. or abroad. Learn more from them and tips from the CDC on ways to make a successful internship search!
Counts towards FYIS.
Sponsored by the Career Development Center, in recognition of International Education Week 2016.