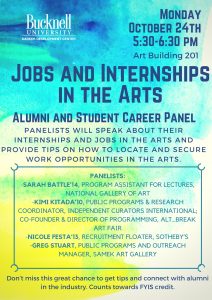 Monday, October 24th
5:30 – 6:30 pm | Art Building 201
Panelists will speak about their internships and jobs in the Arts and provide tips on how to locate and secure work opportunities in the arts.
Panelists include:
Nicole Adams '18, Student Researcher for Bucknell Program for Undergraduate Research
Sarah Battle'14, Program Assistant for Lectures, National Gallery of Art
Kimi Kitada'10, Public Programs & Research Coordinator, Independent Curators International; Co-Founder & Director of Programming, alt_break art fair
Nicole Festa'13, Recruitment Floater, Sotheby's
Greg Stuart, Public Programs and Outreach Manager, Samek Art Museum
Don't miss this great chance to hear to get tips and connect with alumni in the industry.
Counts towards FYIS credit.