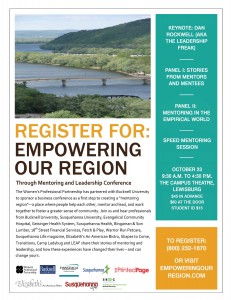 The Empowering Our Region Through Mentoring and Leadership conference is for everyone–men and women–from students and young professionals learning to network and get ahead in their careers to successful professionals who want to give back and share their skills.
Panels at the conference will illustrate existing mentor/mentee relationships; the nuts and bolts of mentoring; mentoring and leadership resources that already exist in our communities; and a speed-mentoring session designed to show just how effective it can be to establish mentoring relationships and build leadership skills.
Wherever you are on the career continuum, we urge you to attend the conference to expand your sphere of influence, increase your professional contacts and give back to the communities where you live and work.
This conference is only $15 for students with ID (at the door) and includes breakfast and lunch from Elizabeth's An American Bistro!