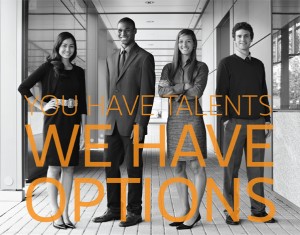 DATE: Friday, October 24, 2014
TIME: 8:30 a.m. – 5:00 p.m.
VENUE: Morgan Stanley Headquarters, 1585 Broadway, New York, NY 10036
DEADLINE TO APPLY: Sunday, September 28, 2014
PARTICIPATING DIVISIONS: Bank Resource Management, Firm Strategy & Execution, Fixed Income & Commodities, Global Capital Markets, Institutional Equity, Investment Banking, Investment Management, Public Finance, Research, Strats and Modeling, Wealth Management
JOIN US FOR MORGAN STANLEY'S INSIDE ACCESS DAY.
At Morgan Stanley, solving complex challenges and fueling economic growth across continents is what we do. We offer you a structured path to success, providing you with the training, mobility and responsibility to make a real difference. Inside Access Day is for current undergraduate juniors with a 3.5 GPA or higher who are true leaders on campus.
Our one day workshop will provide you with an opportunity to explore the financial services industry and become familiar with the Firm's business and culture. Participants will gain insight into the recruiting process, learn resume tips and interviewing techniques, and network with leaders across the Firm.
Participation is limited. Students selected for Inside Access Day will have domestic travel expenses paid to and from our New York City office.
The deadline to apply is Sunday, September 28th at 11:59PM. Click Here to Apply
For questions, contact elizabeth.clark@morganstanley.com.
Morgan Stanley is an equal opportunity employer committed to workforce diversity. (M/G/D/V) © 2014 Morgan Stanley