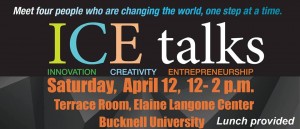 Meet four people who are changing the world, one step at a time.
April 12th: Noon-2pm | ELC Terrace Room | Free Lunch
Check out the Facebook page for daily updates!
Want to know how a Bucknellian started a non-profit organization on campus that led to him being named the Traveler of Year for 2013 by National Geographic?
Want to hear the story of a Bucknell All-American water polo player who is leading a start up that may change TV as we know it?
Want to know how to be more innovative by simply learning from your body movements?
Want to hear about key factors that could lead to YOUR entrepreneurial success?
Speakers you will meet at ICE:
Sponsored by The College of Engineering and Engineering & Innovation Affinity House.