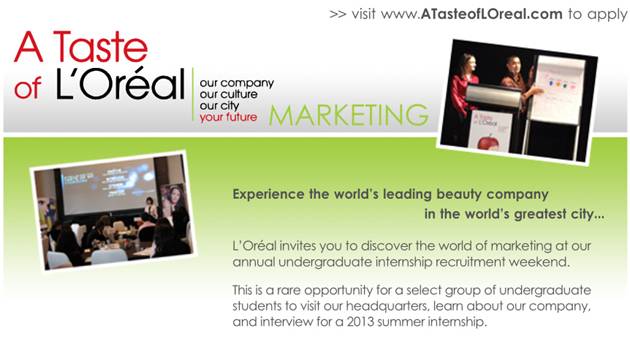 A Taste of our Company
Visit our headquarters and get a behind-the-scenes look at how we work.
Most of all, network with top executives and interview for a 2013 internship.
A Taste of our Culture
Learn about our innovative approach to marketing. It's a rare opportunity to gain insight into the types of projects L'Oréal managers oversee; plus get personalized feedback.
A Taste of our City
Experience one of the most inspirational backdrops in the world – New York City!
Did we mention that L'Oréal will be picking up the tab for meals,
hotel accommodations, and all weekend activities?
WHO:
Juniors interested in learning about an innovative, fast-paced, global company.
WHEN:
January 25th– 27th  , 2013
HOW:
Apply at http://atasteofloreal.com before midnight on November 12th , 2012.