Next up in our Post-College City Guides" series by Laura Carlson '12: San Francisco, California!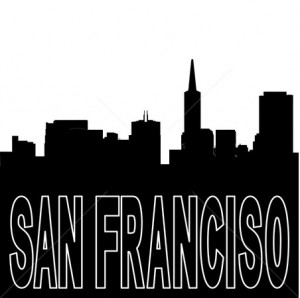 Some Background Stats:
Metro population: 1.7 million
Unemployment rate: 7%
Cost of living index: 193 (100 is average)
Major Industries: technologies (from computers to health), non-profit, finance, marketing
Avg. Price of a One Bedroom Apartment: $1,512*
Cost of Living Index Value: 187**
Climate: Winter—48°F, Summer—64°F
Professional Sports: Athletics, Giants, 49ers, Raiders, Warriors, Sharks
Closing Time: 2AM
Best known for: Golden Gate Bridge and Hyphy Music
Best Foods: Organic, multi-cultural foods
 Why We Chose It:
If you're going to San Francisco, be sure to have your diploma in hand. Not quite how the original song went, but this cities culture thrives on innovation and development. The city has been praised by Forbes as one of the top 10 smartest cities and was titled the healthiest city in the country by USA today in 2008. Not only is the city filled with successful, healthy, intelligent people, it is home to some of the most diverse and distinct neighborhoods in the country and has been ranked by CNBC as the second best place for young people to live. The Bay Area is home to some of the top technology companies, several major healthcare companies, and hosts a strong financial district that recent graduates can take advantage of. Most of the booming industries have high paying careers, and however slow the economy is recovering, San Francisco's employment rate went up .9% last year.
Why You'll Love it:
Anyone who has lived on the West coast for an extended period of time has kindly reminded me that the West Coast is the Best Coast and the East is the Least – and from the information I've gathered I can see why West coasters take pride in their domain. Situated in the beautiful Bay Area, San Francisco offers a scenic and lively atmosphere whether you're scoping out the Golden Gate Bridge or one of its distinct neighborhoods. Known for its green practices, acceptance of unique and different personalities, and for being densely populated with young outdoorsy like-minded folks, San Fran hosts a unique culture that college kids can easily adjust to as they make their way into the real world.
With 3,480 acres of parks and 2,870 bars within its vicinity, the work hard play hard atmosphere of Bucknell holds true for San Francisco as well. San Francisco is the number one city for indie culture and brings a diverse fusion of personalities, restaurants and activities that will surely keep you on your toes. The historic center is bordered by its very own Market Street and hosts the Financial District and the cities principle shopping areas. Cable Cars line the way from the top of Nob Hill down to Fisherman's Wharf, a prominent tourist area. Fisherman's Wharf is known for its seafood restaurants including upscale Scoma's Restaurant and Pier Market Seafood. Fisherman's Wharf has incredible shopping from high end retail boutiques to specialty gift stores, and hosts several shopping complexes including The Cannery at Del Monte Square.
There are 18 accredited museums in San Francisco, including the Museum of Modern Art and the Asian Art Museum of San Francisco. For those looking for a contrary idea of culture, the Bay Area is home to several indie artists, rappers and its very own hyphy movement that serves to rep the west. You can lose yourself as you stroll through one of the many unique neighborhoods in the area and explore various eateries and San Fran specialties including Ghiradelli chocolate. San Francisco hosts a plethora of other cultural events including the largest Chinese New Year celebration outside of China in the heart of Chinatown San Francisco and the largest pride parade in the country, San Francisco Pride.
San Francisco's Golden Gate National Recreation area boasts 59 miles of pure shoreline, offering an ideal location to get out and enjoy nature. While you're there, be sure to check out hiking trails that give way to beautiful views of the Golden Gate Bridge, claimed as one of the Wonders of the World by the American Society of Engineers. Take a bay cruise at Fisherman's Wharf, drive across the 1.7 mile structure, or take advantage of attractions at Golden Gate Park including a vintage carousel, museums, and beautiful gardens. While you're there, stop by Alcatraz, the former island prison or take free swing dancing lessons in the Golden Gate Park any Sunday from 11-2pm. If you're feeling more adventurous, take a fishing charter or take surfing lessons to experience the Pacific Ocean firsthand.
San Francisco is a dense city with a great transportation system, making it easy to get around if you choose not to embrace the beautiful weather with a walk or bike ride to work. BART connects San Francisco with Oakland and Berkley, and a MUNI subway line runs in the city, making it easy to get around cheaply and conveniently. If you've had enough of the cities Oceanside splendor, head out to Napa County for a wine tasting or go on a hike or ski weekend in the nearby Sierra Nevadas. With so much to do though, who would want to leave?
Not ready to leave Bucknell? We didn't think so.
Check out the Nor Cal Bucknell Club
203 alumni are in the area. Check out B-Link if you want to talk to people willing to speak about career advice and job opportunities at such places as:
Lehman Brothers '06
Goldman Sachs '07
Telsa Motors '08
Wells Fargo '09
Or in industries such as:
Advertising '03
Hospitality '03
Marketing '89
Related Posts: