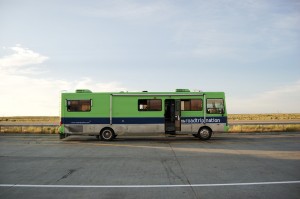 Roadtrip Nation, which produces the public television series "Roadtrip Nation," has embarked on its 10-year mark of sending students out on the Road to define their own Roads in life by traveling in its Green RV to more than 40 college campuses across the U.S. as part of its annual Fall Tour. Bucknell was one of the stops way back when (I think in 2004…) and they loved the campus so much (who wouldn't?) they are coming back!
On October 25 (from 10 -3) a team of Roadies will bring their on-the-Road expertise to Bucknell students by sharing their personal experiences on the Road and spreading the word about current opportunities with Roadtrip Nation such as applying for the summer Green RV Roadtrip. The events will also feature a screening of clips from the new season of Roadtrip Nation and other interactive activities with a Roadtrip Nation vibe such as physically signing the Green RV to show support for the Movement.
The philosophy that drives Roadtrip Nation is the search for diverse Leaders who have resisted pressures to conform and who have become successful by following their own paths. This Movement has spawned a fast-moving, free-spirited public television documentary series that follows the self-discovery journeys of Roadtripping students as they cross the nation in search of insights. Roadtrip Nation helps young people answer the question, "What are you going to do with your life?"
About Roadtrip Nation
In the summer of 2001, three friends decided to take a Roadtrip to seek their place in the world. The idea behind the Roadtrip was simple: If you don't know what to do with your life, talk to people who are doing what they love, then ask them how they got there The trio hit the Road in a mechanically unsound Green RV, and three months and 17,000 miles later they had interviewed 85 eclectic individuals. Since then, Roadtrip Nation has evolved into a Movement to help individuals define their own Roads in life: including eight seasons on public television, a growing Interview Archive with Leader stories, three books, an online community, and a student network on more than 350 college campuses.
In 2009, the Movement expanded into education with the creation of Roadtrip Nation Education and the development of The Roadtrip Nation Experience, an innovative online curriculum that guides students through an explorative process to learn about pathways relevant to their own individuality. Roadtrip Nation is dedicated to inspiring people everywhere to create lives based on doing what they love.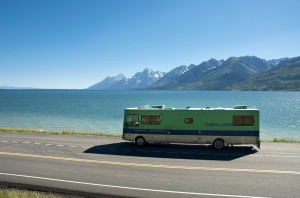 Learn more about the Movement and make sure you look for the big green van on 10/25!
In the meantime you can follow the tour on Facebook and Twitter or their blog and get excited!!!