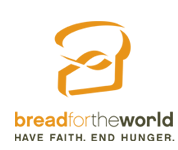 Two years ago, 75 young leaders came to the nation's capital for intensive training in advocacy for hungry and poor people. Since then, they have served as powerful agents of change in their communities. Now Bread for the World is looking for the best and brightest 20- to 30-year-old advocates to join our next class of Hunger Justice Leaders.
Do you have what it takes to be Hunger Justice Leader? Or do you know someone who does?
Selected participants will attend an advocacy training workshop—all expenses paid—in Washington, D.C., June 12-15, 2010. Then they too will commit to going back to their communities to lead advocacy efforts.
Please apply now to take part in this powerful opportunity to:
Gain skills in advocacy, team-building, and community organizing.
Connect with like-minded young leaders from across the United States.
Explore the biblical foundations of faith and justice.
Speak out on Capitol Hill by visiting members of Congress.
The application deadline is March 12, so don't wait. Apply now.