Wednesday, March 6 | 7:30 – 9 pm
Great Room, Hildreth-Mirza Humanities Center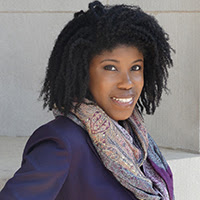 DeShuna Spencer, a social entrepreneur, is the Founder/CEO of kweliTV, an interactive video streaming network for the global black consumer. kweliTV is dedicated to the stories, issues and culture of the global black community. The platform offers a vast selection of on-demand independent films, web shows, news and historical programming, and documentaries specifically of the black experience from the US and across the globe. It will be accessible on smart TVs, internet TV devices (such as Apple TV and Roku), smartphones, game consoles, computers and tablets through a video app. KWELI (KWEH lee) means "TRUTH" IN SWAHILI. In December 2014, Spencer won a $20,000 grant from the NewU/Ford Foundation to develop her new venture, kweliTV, which is currently in beta.
Spencer is the founding publisher of emPowermagazine.com where she launched the emPower Players Awards honoring community activists of color. Spencer is also the producer and radio host of emPower Hour on DC's 89.3 FM WPFW. Before becoming an entrepreneur, Spencer served as the Director of Communications for EdMarket, a trade association in Silver Spring, MD. In that role, Spencer ran the organization's communications department and all media properties from its award-winning magazine, e-newsletters, social media efforts, ad sales, video initiatives and annual budget.
This event is co-sponsored by The Griot Institute and the Career Development Center and a part of the Spring 2019 Lecture & Performance Series – The Black Unfamiliar in the 21st Century.