This week's CDC Intern Picks has an environmental theme in honor of upcoming Earth Day and our ACS Environmental Careers Panel Webinar on April 20th.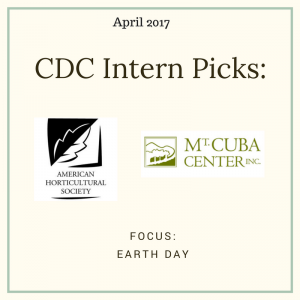 American Horticultural Society Internship – Apply by 4/14
Mt. Cuba Center Ecology Fellowship – Apply by 4/15
The American Horticultural Society is hiring an horticulture intern that will work on the Society's headquarters at River Farm in Alexandria, Virginia, a plot that was once part of George Washington's farmland! Horticulture interns with the AHS work with AHS horticulturists on the day-to-day care and ongoing developments at AHS's national headquarters at River Farm. Interns help with garden maintenance, visitor and member services, interpretative programs, integrated pest management, seasonal exhibits and displays, and plant identification; they will also create their own projects and participate in field trips to other famous horticulture hubs. Internships follow a Monday-Friday schedule with occasional Saturdays for 3 to 6 months.
Apply by April 14th via the application instructions on the Bridge
The Mt. Cuba Center in Hockessin, Delaware is seeking a graduate school candidate for a 2-year Ecology Fellowship. This position if perfect for anyone looking into botanical research. The candidate will lead the Native Orchids of Delaware project, (under the management of the Director of Research) conducting field work on orchid ecology and habitat associates. The job also entails collection of seed and root tissue, vital for future orchid propagation and management of geographic and informational databases. The fellow will create and manage a citizen science based conservation corps to monitor orchids. The final deliverable product from this fellowship is a publication describing the ecological state of orchids in Delaware and written guidance for the future including information on distribution, taxonomy and conservation needs.

We highlight a few CDC Intern Picks that we think you'll find particularly interesting every week.  Learn more by checking out each pick on the Bridge. And while you're there, see what other interesting opportunities you find! If you have any technical difficulties with your application, email recruiting@bucknell.edu before the deadline for help.