Sarah Morgan is a current senior at Bucknell majoring in Biology, after graduation in she will be pursuing a Masters of Science in Nursing at Boston College Connell School of Nursing. While at Bucknell, Sarah has spent countless hours getting involved in activities both on and off campus, however, most notably, she has bridged the gap between Bucknell University and Evangelical Community Hospital.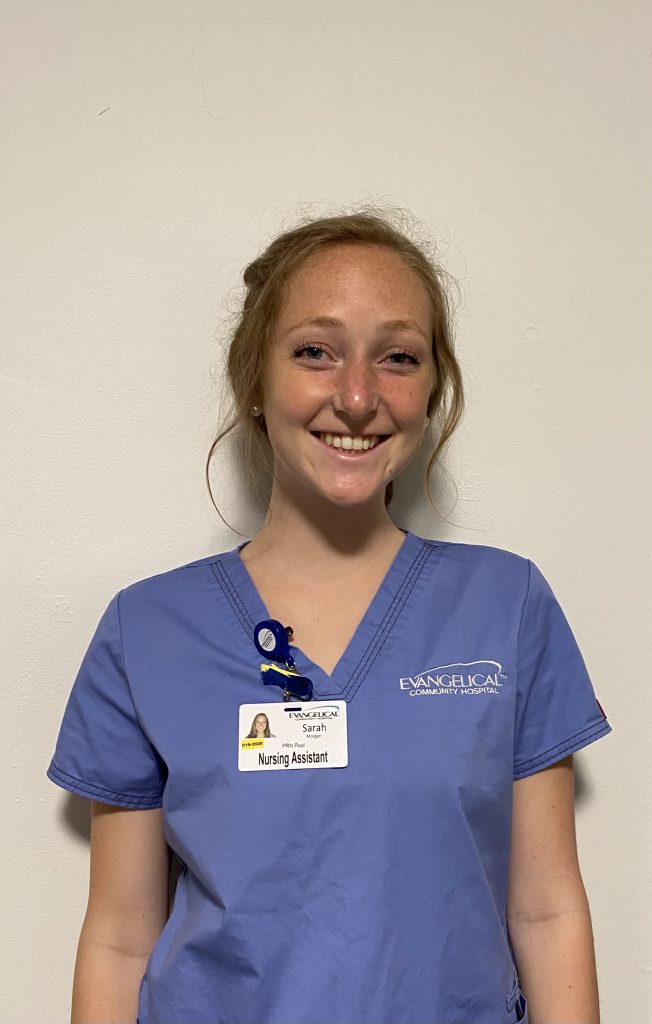 Sarah started working as a Nursing Assistant in the Fall of 2021 and continues to work there now; and thanks to all of Sarah's hard work, dedication, and passion, she has been able to present eager Bucknell students with the opportunity to gain healthcare experience through working as a Nurse Assistant. When Sarah realized how many of her peers also needed to obtain clinical hours to be prepared for their upcoming applications to physician assistant and/or nursing graduate programs, she was inspired to help provide an opportunity for them to do what she was doing at Evangelical.
This initiative, spearheaded by Sarah, will allow interested Bucknell students to enhance their professional school applications because they will become trained Nursing Assistants.Working as a Nursing Assistant includes assisting patients with walking, eating, going to the bathroom, bathing, taking vitals, blood sugars, and answering call bells.
This incredible opportunity will allow students to not only gain experience in the medical field, but also get their required hours for post-college plans, such as Physician Assistant school. Evangelical Community Hospital is seeking students who would work throughout their time at Bucknell, a minimum of eight hours a week, but still allowing flexibility within students' schedules. Students interested in working at Evangelical as a Nursing Assistant should apply this Spring (before the end of the Spring 2022 semester) using this link. Sarah's exceptional leadership and passion has paved the way for underclassmen to jump start their future (and also get paid) because now students have the ability to strengthen their professional school applications before it is time to apply!
On behalf of our office, we would like to express our gratitude and appreciation for Sarah Morgan for all her time and commitment towards this project. We can't wait to see what you accomplish Sarah and wish you all the best in all future endeavors!