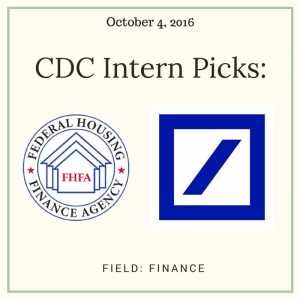 With a field trip to JP Morgan and the Finance Fair happening this week (Thursday, October 6th) we thought we'd keep the theme going and focus on Finance for this week's CDC Intern picks. If you are a current freshmen, sophomore, or junior interested in pursuing a career in finance or accounting, there are several internship opportunities posted on The Bridge. The two we are highlighting today are:
Federal Housing Finance Agency in Washington, D.C.-  Apply on the Bridge by November 18th , but if you apply before October 19th, you can interview with an alum from FHFA on campus the next day (10/20)!
Deutsche Bank Internship Program – Apply by October 19th
The Federal Housing Finance Agency is a small, dynamic, fast-paced federal agency whose work has far-reaching impact. If selected, you will be part of an integrated team playing a key role in the current and future U.S. housing market. Interns may be pursuing a degree in any number of majors, including Economics, Financial Management, Accounting, Finance, Business Management, Statistics, or Mathematics, Political Science and computer science.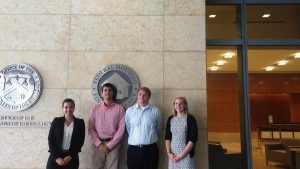 In the summer of 2016, four Bucknell students interned for the Federal Housing Finance Agency. As an intern, your assignments may include the following: assist in basic research; qualitative and quantitative research; development of statistical and/or financial tables and graphic displays; data collection and analyses, etc. Interns may also assist in preparing briefing papers, position papers, and replies in support of program managers.
Internship: Federal Housing Finance Agency in Washington, D.C.
Applications: Apply on the Bridge by November 18th , but if you apply before October 19th, you can interview with employer on campus on that day! 
Bonus: Raj Thangavelu '98 will  be on campus on 10/19 and 10/20 offering mock interviews and two workshops: One to share advice  and tips on working at the Federal Housing Finance Agency and working/interning in a federal agency (in general) 10/19, 5:30 in ELC 217 and another Federal Hiring and How To Use USAJobs.gov 10/20, Noon, ELC 241A (with FREE LUNCH!) Learn more and RSVP on the Bridge. 
Deutsche Bank's Corporate Finance business serves as one of the world leaders in investment banking while also providing financial advisory, capital raising services, debt and equity capital marketing, and risk management, all through their global distribution network. As an intern, you will have the opportunity to work with senior leaders within the company to learn firsthand the process through which they deliver for their clients.
Your tasks will change throughout the internship as you go through more classroom and job-training and as you move through different areas in the company. You will have the opportunity to evaluate risk profiles and prepare marketing materials on corporate banking products for a client pitch, all while building relationships with clients and your working partners.
Internship Program: Corporate and Investment Banking, Corporate Finance Deutsche Bank
Applications: Apply by on the Bridge and on their website www.db.com/careers by October 19th

We highlight a few CDC Intern Picks that we think you'll find particularly interesting every week.  Learn more by checking out each pick on the Bridge. And while you're there, see what other interesting opportunities you find! If you have any technical difficulties with your application, email recruiting@bucknell.edu before the deadline for help.