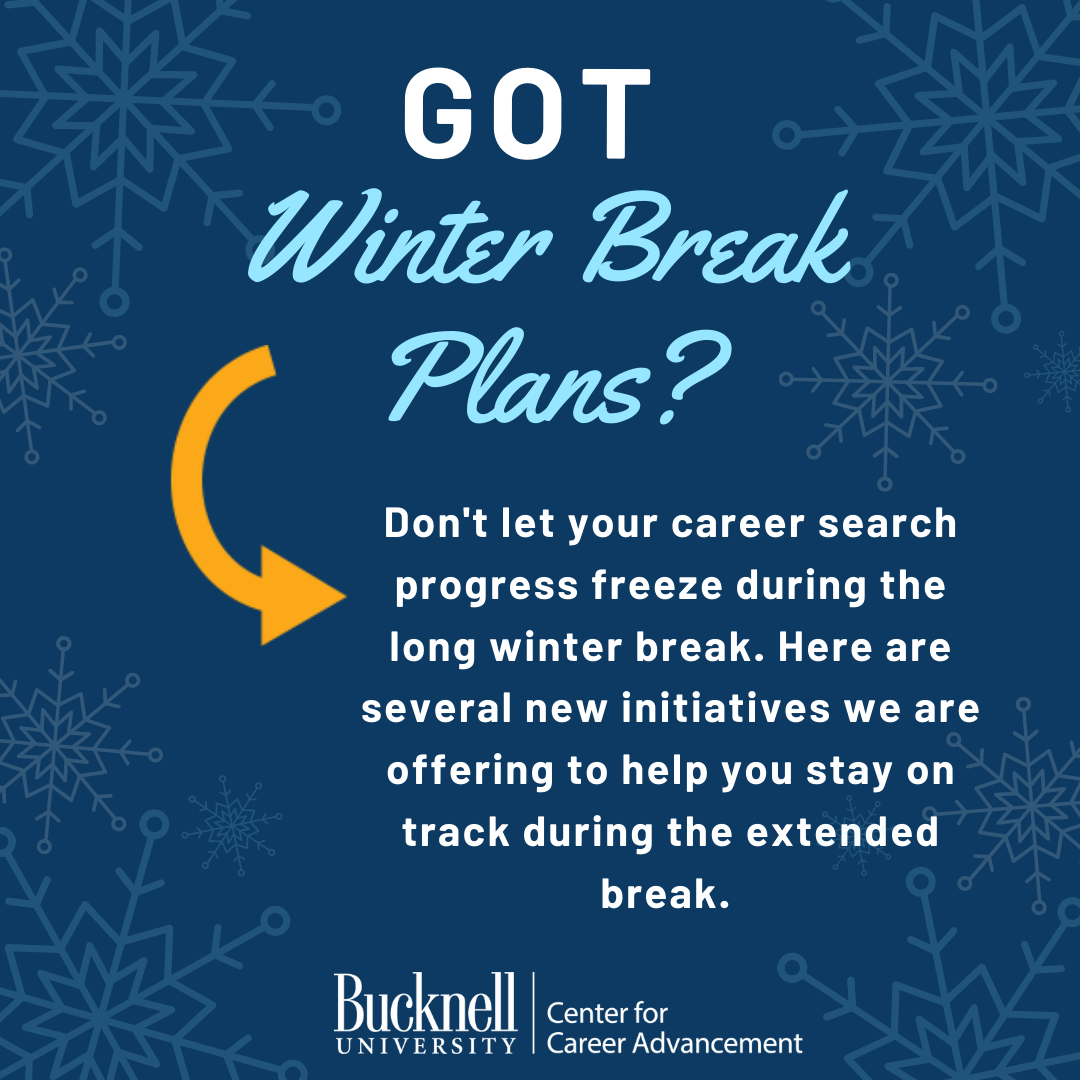 Winter Break has always been a good time to create or update your resume or LinkedIn profile and spend some time thinking about future career opportunities. This year's extended Winter Break brings the opportunity to not only take a well-deserved break, but to also go on a new adventure as you think about pursuing your interests and working toward your career goals. You can apply for a Microinternship, attend virtual employer sessions, network and/or gain new skills.
The choice is up to you – choose your own adventure this Winter Break!
I want to gain professional experience!
Professional experience can come in many forms, but check-out the opportunities below to learn about and apply for Microinternships (short, project-based experiences) or more traditional internship opportunities.
I want to explore different industries, companies, and organizations!
One of the best ways to learn about career options is to spend time learning about organizations and hearing from the people within them. This can be done through informational interviewing, networking, and/or formal programs that bring the organization to you.
Bison Virtual Road Trips – Throughout the month of January we are partnering with alumni, parents and company representatives to hold information sessions to promote companies, work environments, career paths, and potential opportunities. Keep an eye on your email or our event calendar on Handshake as we announce the different opportunities to interact with Bucknellians from various organizations. You will be able to register up until the day of the event through Handshake. We currently have sessions scheduled with IBM, Fast Enterprises, New England Center for Children, Carney, Sandoe & Associates, Vanguard, Teach For America, and Tuck Business Bridge Program
EACE Virtual Road Trips to the Real World – Get an inside view and speak with current employees from a variety of companies.  Student registration will be open November 9 – December 21, 2020.  Virtual site visits will take place January 12-28, 2021.
RoadTripNation – a library of informational interviews, profiles, advice organized by interests or by skills you want to use.
I want to learn new skills!
Learning never goes out of style and developing new skills can be a great way to learn about the functional aspects of careers. Bonus: they also show employers that you'll be able to hit the ground running if brought on board.
LinkedIn Learning – Access LinkedIn learning from the Library's Homepage and browse the online portal to access modules and learn new skills that can be added to your LinkedIn profile.
Forage – Learn from top companies and set yourself apart. The virtual experience programs were created by companies to teach students the skills they're looking for.
I want to network!
Networking is incredibly useful in helping you learn about career options and opportunities. If you're new to networking, get tips and etiquette on the Career Center's Moodle site before starting.
LinkedIn – Bucknell University Page – Create/update your profile and then Filter alums by different criteria and the profiles change as the categories change – select See Alumni and then sort by keyword or category.
BucknellConnect.com – Access the Bucknell Alumni Directory on BucknellConnect to find alumni of interest that you would like to reach out to.
I want to develop a plan to move my career exploration and/or search forward!
Find more details on Handshake for the programs taking place in January below:
Where Do You Want to Go With Your Major? – Explore. Identify. Act. In this 3-part series, we will explore the different industries that focus your interests and talents, identify how you use soft skills, such as problem solving, team work, and communications, and provide resources and tools that will inform your actions moving forward in where you want to go with your major and your career. Open to first-year, sophomore and junior students.
How to Job Search During a Pandemic – Develop an action-plan to move your career goals forward this Spring semester. Your job search likely looks a bit different than you anticipated it would last year, so join the CCA for this 3-part series to learn practical skills to navigate virtual job boards and application processes. Seniors only.
Jump Start Your Career on Wall Street: Introductory Series to the Jobs and How to Compete for Them – As the quest for best talent continues on Wall Street, you must be ready to compete for internship opportunities early in your undergraduate experience. This 3-part series will jump start you on your way to increasing the possibility that you will successfully obtain one of these coveted jobs. Targeted to First Years & Sophomores but open to all.
You can also join us for workshops focused on getting your resume ready for our February Internship & Job fair and learn how to make the most of virtual interactions with employers.
In addition to all of these opportunities, don't forget that the Career Center's Moodle Page is open 24/7 with lots of resources to help you explore career paths, create application documents, learn key search skills and strategies, and listen to recorded alumni and parent panels.