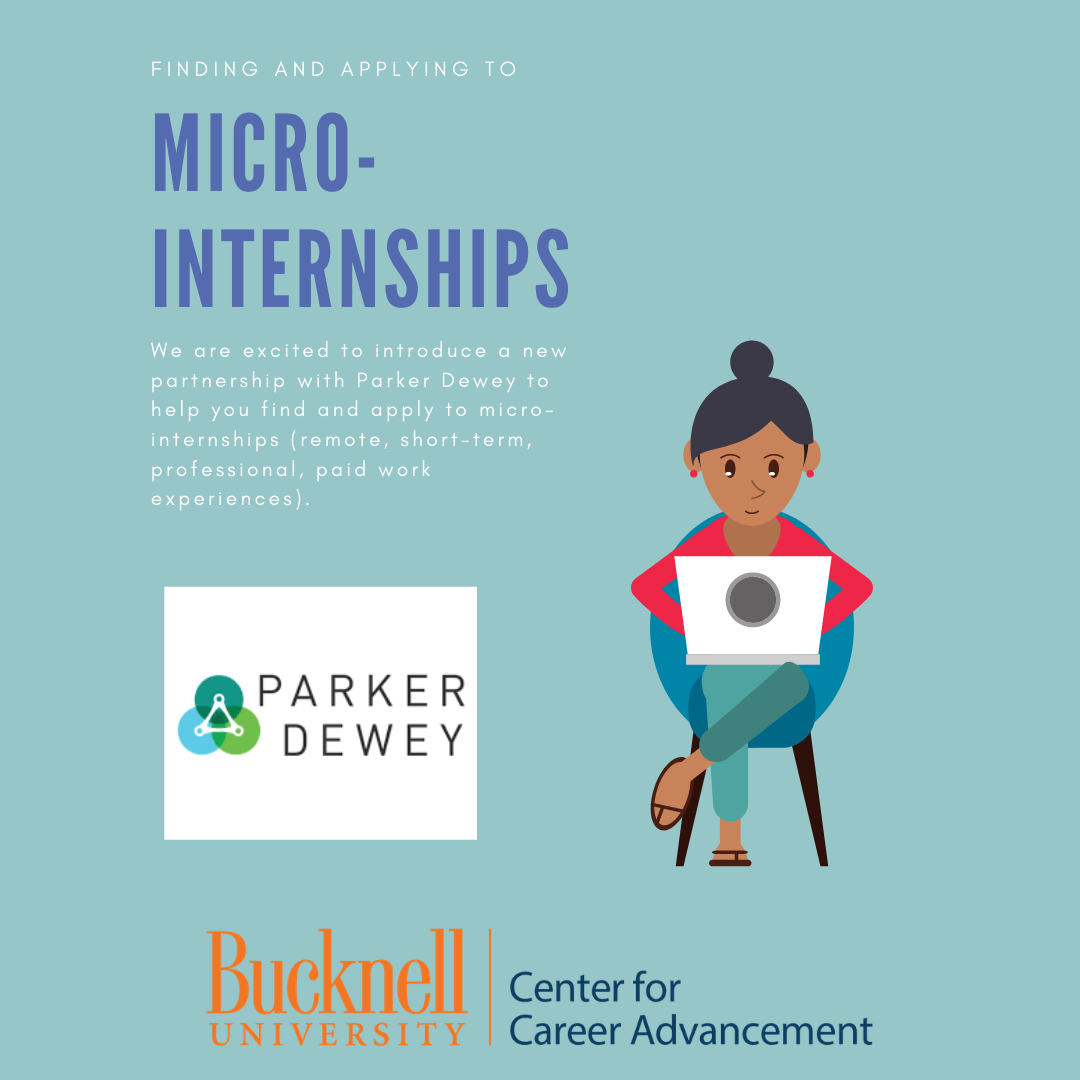 As the semester draws to a close, you may be considering options for the extended winter break. As always, the career center is here to help however we can. One option to consider is to complete a short-term Micro-Internship project. Given that these opportunities are short-term it can be a great way to keep your skills sharp and gain experience to leverage for a future opportunity.
Wait, you may be wondering, "what exactly a micro-internship is?" ….
It's a bit how it sounds: A micro-internship allows students to pursue short-term, professional, paid work experiences which can be completed remotely. They also are an opportunity for students to demonstrate skills, explore career paths and develop their professional networks. To get started on finding one (or more) all you need to do is create your Parkey Dewey account by following these steps:
Go to our Bucknell Parker Dewey site
Select "Create Your Bucknell Account Today" next to the Parkey Dewey bullet point
Select "Create A Free Account" and follow the steps
A fast way to fill out your profile is to link your Parker Dewey profile to your LinkedIn profile. This is a more efficient way to complete your profile and allows your Parker Dewey profile to be as robust as your LinkedIn. Micro-internships are posted daily and cover a range of industries such as sales, human resources, marketing, research, finance and accounting. While a great way to do something over break, these micro internships can also lead to full time internship offers and full time job offers.
Applying for a micro-internship is easy. Click "Details" under an opportunity that interests you. Next, click "Apply For This Project" this will take you to the application for the opportunity. Each application is different, depending on what the company is looking for. After completing the application click "Submit Application" and you are done! Applying is super easy, so you can apply to many micro internships.
Parker Dewey also has other sections besides applying for micro-internships. Students can go to the "Career Launchers" page of the website. This page provides additional resources for students as well as the advantages of micro internships. There is also a Career Launcher tutorial that is a useful resource for students who are just getting started or not familiar with Parker Dewey's services.
To get more information about Parker Dewey and how micro internships work you can watch this video.