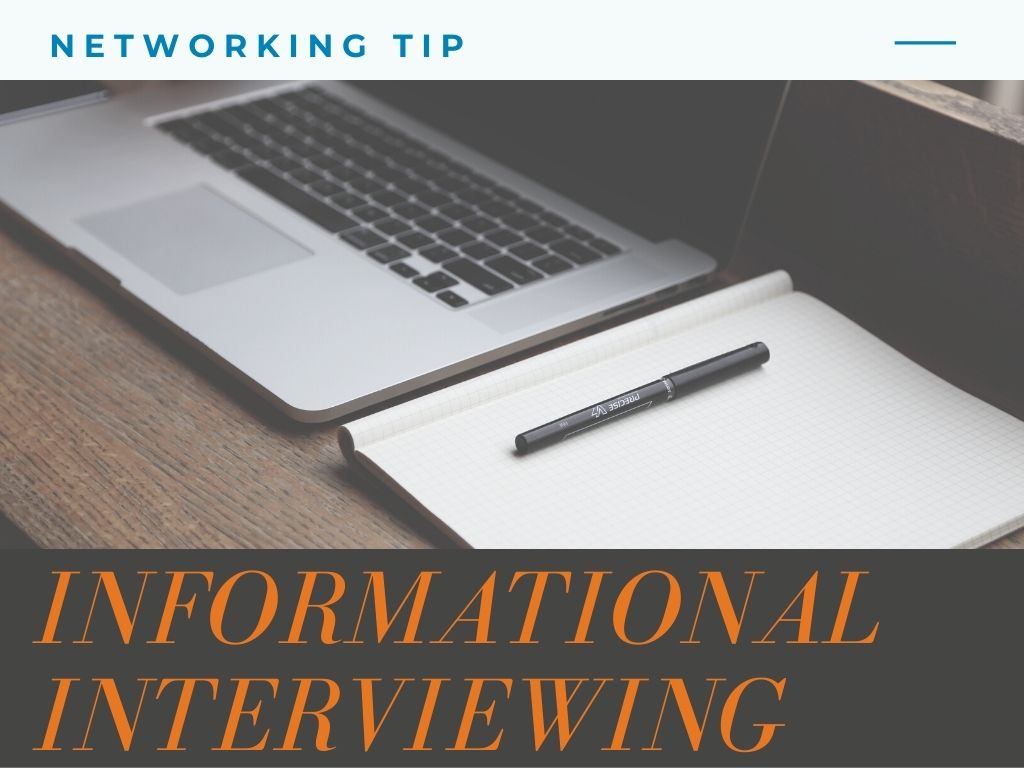 Networking is an important part of landing an internship or job, but it's also really helpful in determining what career path you want to pursue. A particularly useful form of networking, that goes beyond small talk, is informational interviewing. Informational interviews allow you to ask a professional questions about their career path, job role, and company. These 15-20 minutes interviews are an awesome way to get an inside scoop on a career field. People generally like to be helpful, so spend time asking questions that will help you determine your next steps in your career search.
A common misconception is that you need to have their career goals determined before networking. In actuality, it can be helpful to go into an informational interview with an open-mind and a willingness to learn from someone else's experience. Ask yourself why you want to talk to the person you are reaching out to and prepare questions that will help you get the information you are looking for in order to move your career plans forward. Whether you are exploring future internship or career options or have a particular role or company in mind, networking with professionals is always a good idea. Here are some tips to get you started. (Link to blog article)
Where do I network?
LinkedIn – Check out the Bucknell University Page and then Click "Alumni". This will give you a data set of everyone who went to Bucknell who is on LinkedIn. Sort by location, company, major, and more!
BucknellConnect.com – This site is exclusively for Bucknellians and contains the Alumni Directory (60,000+people!). Bonus: Many alumni have activated their profiles and noted that they are "willing to help" others
Don't forget about the clubs, honor societies, Greek organizations, athletic teams, and other groups that you belong to.
What do I say when I reach out?
Be Concise – 5-7 lines is typically sufficient

Provide Clarity – how you found their name/information (Alumni Directory, referral, etc.)
Name
Reason for writing
Best time to be reached
Email/Phone number

Pique Their Interest – Provide a brief description of yourself or the commonality that you share
Request an Action – What information would you like to discuss and when/how would you like to connect with them?
Sample Networking Message
Hello. My name is __________ and I am a senior at Bucknell University. I found your name through the Bucknell Alumni Directory and thought I would reach out to you regarding my interest in __________. I am a __________ major and I am very eager to learn more about what you do at __________ as you are in an industry of interest to me and I would like to start to determine exactly what I want to pursue after graduation. Please let me know if you would have time to speak and we can schedule a mutually convenient time to connect. Thank you so much for your time. I look forward to hearing from you.
Additional Tips for Networking:
RELAX – Be professional and appropriate, but understand that you are talking with people who have been in your shoes
It takes practice – Networking is about communicating and connecting with people. Not every conversation will be smooth.
Do some research – Review their LinkedIn profile and current company website in order to prepare some questions. Be able to articulate why you wanted to reach out to them and how it relates to you and your goals.
Follow-up (a couple times if you need to) – Emails sometimes go to spam folders, so if you don't hear back from someone, try again. Keep track of when you send your initial emails and give the person at least 1 week to respond before contacting them again.
Maintain relationships by connecting and interacting with people and posts on LinkedIn
Show value and appreciation for the person's time – Be clear about your "ask" and send a "thank-you" after the conversation
Remember you have access to our 24/7 career center through Moodle where you can find a bunch of great resources, like this section related to Networking.