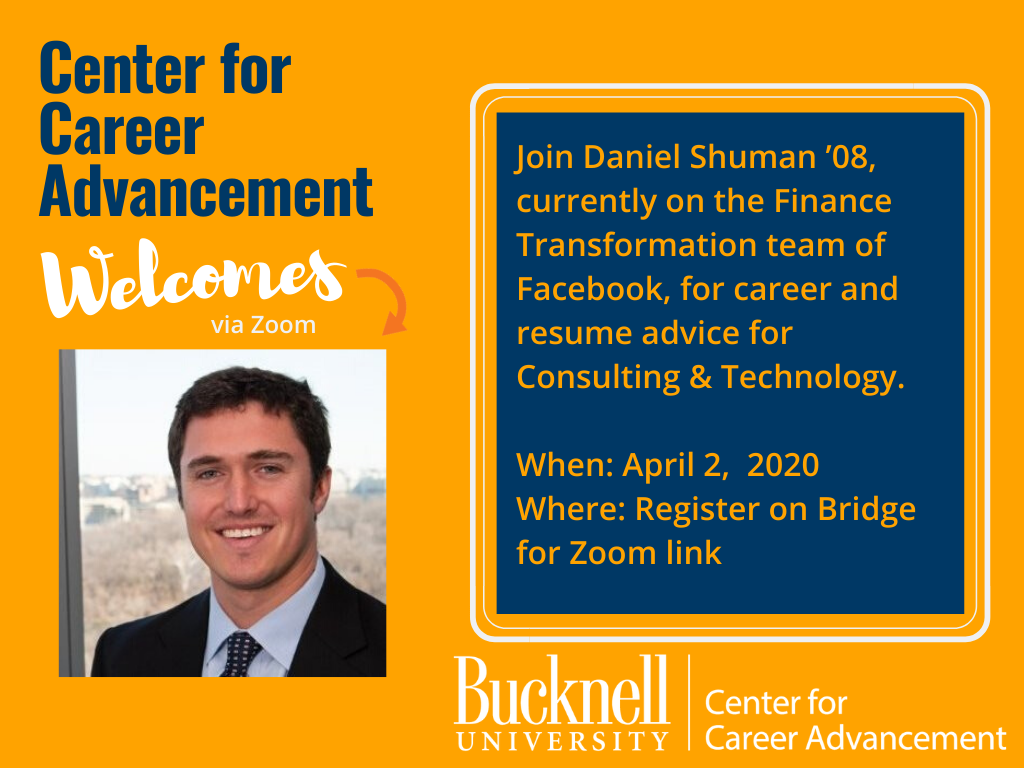 Join Daniel Shuman '08, currently on the Finance Transformation team of Facebook, for a Zoom session on career and resume advice for Consulting & Technology.
Thursday, April 2, Noon – 1 pm, via Zoom
Sign up on the Bridge to get the link!
Daniel Shuman '08 is available to meet virtually on Zoom with students to share his experience and offer any career advice in this informal session and is available for individual follow-up, as time allows. This session will be in a Q&A format about topics ranging from networking, finding and approaching your first job, how to write resumes with impact, and life out of Bucknell.
More About Dan:
Dan currently works at Facebook as part of their Finance Transformation team in Austin, TX. Prior to that, he spent 10 years after Bucknell working in management and IT consulting with Deloitte Consulting and CGI in Washington, DC. At Deloitte, he was the lead for Bucknell campus recruiting for their Washington, DC office.

Please RSVP by Wednesday, April 1 on the Bridge (a Zoom link will be shared with all registrants)
Log on your Bridge account
In blue section on side, go to Events > CCA Programs.
Use keyword or date to search for program. Select RSVP.
Questions? Contact career@bucknell.edu