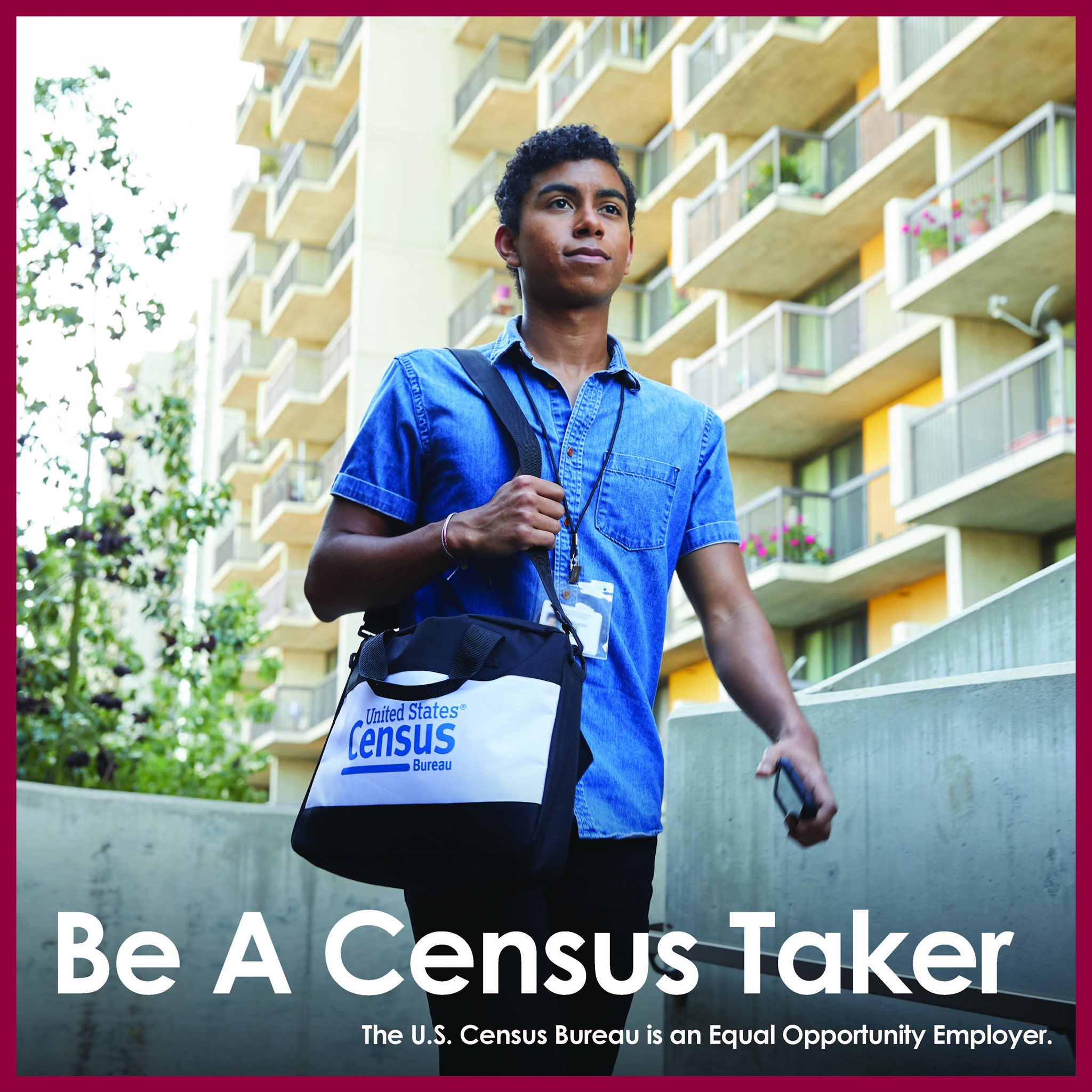 Come learn how you can help your community this spring and summer by working for the U.S. Census Bureau. Recruiting sessions will be held in Arches Lounge, 3rd Floor, LC at 12 noon on Tuesday, February 25, and at 4:45 pm on Thursday, February 27.  
Help your community, build your resume, gain valuable skills, supplement your financial aid – these are all great reasons to consider applying to work for the 2020 US Census this spring and summer. The opportunity to participate in this national project only comes around every 10 years and you can be part of this major effort to document details about the current population of the US. Census-takers help ensure every resident is counted. Great pay, flexible schedules, paid training. Get details and apply online at 2020CENSUS.GOV/JOBS.
Being a census-taker involves helping folks complete the national survey which is being done online for the first time. Census workers will contact those who need to complete the form and assist those who may need help with the technology to make sure their data is included. This is an ideal position for college students, part-time workers, recent high school grads, veterans, and retirees. The pay rate is much higher than minimum wage – $17.50 an hour for Union County. Other county pay rates can be found here: https://2020census.gov/en/jobs/pay-and-locations.html
Census workers receive pay for training and will likely work 8-12 weeks for at least 10-15 hours a week, or up to 40 hours a week, depending on their preference and availability. The bulk of the canvassing will be done in May and June. You can schedule work days, evenings, or weekends that are convenient for you. For details and an application, visit 2020CENSUS.GOV/JOBS.
Every ten years the national government counts every person living in the United States and right now they are hiring thousands of individuals to be part of the largest peace-time mobilization of workers. In urban, suburban, and rural areas, it's important that we count every resident. The population in a given area affects our representation in the US Congress, the portion of government funding we receive, the boundaries of legislative districts, planning for hospitals, nursing homes, new housing, and roads; the location of factories and research facilities. The census helps us understand the labor supply, provides for genealogical research, and identifies educational trends and consumer needs, among other things.
Do work that counts. Be part of this national civic engagement effort. Apply today 2020CENSUS.GOV/JOBS