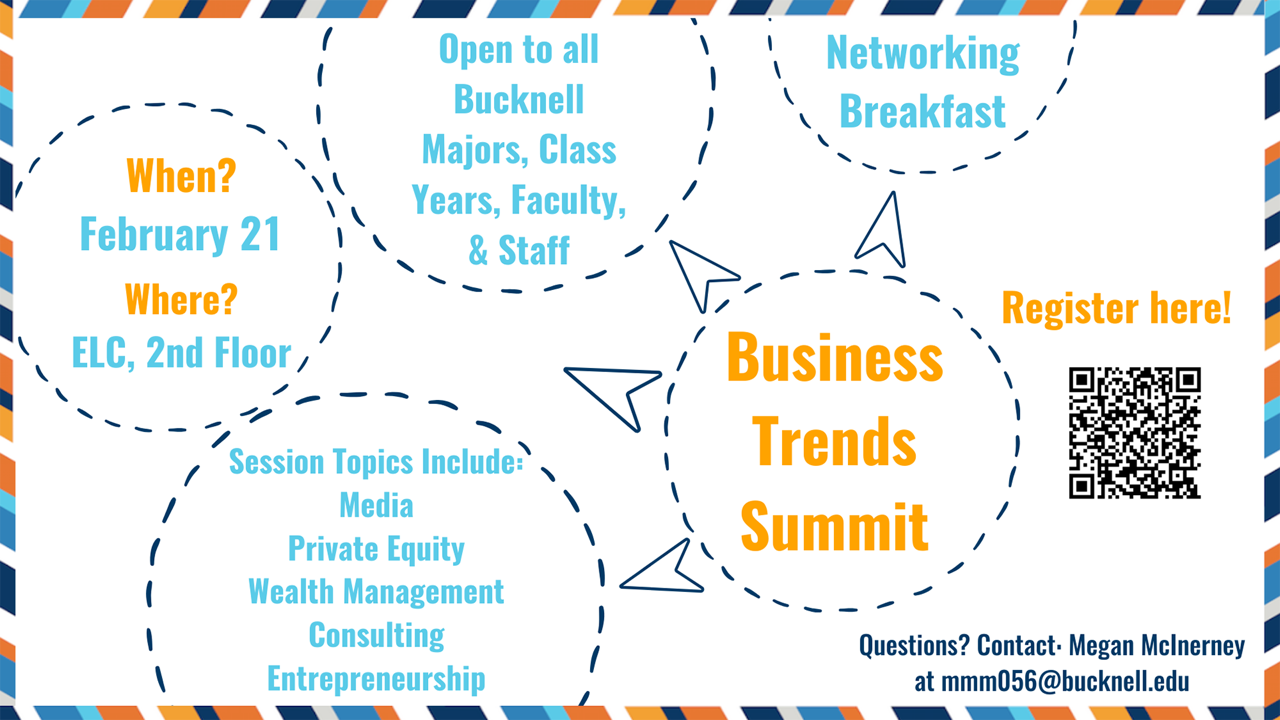 We are excited to help spread the word about the upcoming Business Trends Summit with a theme of Innovation and Entrepreneurship on February 21 hosted by the Freeman College of Management but OPEN TO ALL!
Discover the trends and opportunities in organizations from industry leaders in a variety of fields and start to build connections.
All students, faculty and staff across the University are encouraged to attend. Register here

Friday, February 21 Summit Schedule
8:00-9:00 AM: Networking breakfast, ELC 276-Terrace Room
9:00-9:50 AM: Session 1 (3 concurrent sessions)

Breakout A, ELC 241: Transformation in the Pharmaceutical Industry

Curt Cornwell '86, P'12, Partner, PWC

Breakout B, ELC Walls Lounge: Private Equity from Start to Finish

Brad Langer '96, Managing Director, Brown Brothers Harriman & Co.
Mark Langer '02, Managing Director, Capital Partners
Laurie Schmidt '99, Partner, Goldman Sachs Merchant Banking

Breakout C, ELC Center Room: Innovations in Media

Scott Collins P'23, Senior Advertising Sales Executive

10:00 -10:50 AM: Session 2 (2 concurrent sessions)

Breakout A, ELC Center Room: Wealth Management and Entrepreneurship

Emily Dafilou '16, Client Association, KORE Private Wealth
Jennie Sowers '98, Partner, KORE Private Wealth
Lucia Smircich '17, Client Associate, KORE Private Wealth

Breakout B, ELC Walls Lounge: How Does Consulting Cultivate Innovation

Matt Gay '92, Senior Advertising & Marketing Director, Accenture
Amy LaRosa '90, P'21, Managing Director, Accenture
Alex Lord '18, Management Consulting Senior Analyst, Accenture Federal Services
Marissa Mancuso '18, Senior Analyst, Accenture
Brandon Neale '15, Management Consultant, Accenture
Anthony Pinheiro '01, Managing Director, Accenture Federal Services

11:00 – 11:50 AM: Session 3 (2 concurrent sessions)

Breakout A, ELC 241: Tale of Two Buddies: Paths from the Big Four and Beyond

Scott Feit '92, P'20, P'23, Principal, Prime Pensions
Mike Malin '92, Founder and President, Blue Marlin Enterprises

Breakout B, ELC Walls Lounge: Financial Markets-Perspectives from the Front, Middle & Back Office

Steve Firestone '94, Lecturer & Former Lead, Office of the Comptroller of the Currency
Keith Grover '87, P'22, Director-Technology Services, BNY Mellon

12:00 – 1:30 PM: Concluding Lunch & Keynote in MacDonald Commons

Keynote Speaker: Linda Avery '81, Chief Data and Analytics Officer and Senior Vice President, Verizon
Register for the sessions you'd like to attend

Questions? Contact Missy Gutkowski, Director of Experiential Programs, Freeman College of Management at mmg019@bucknell.edu with questions or to register a large group for a session.