The application deadline for Fall 2019 matriculation is March 15.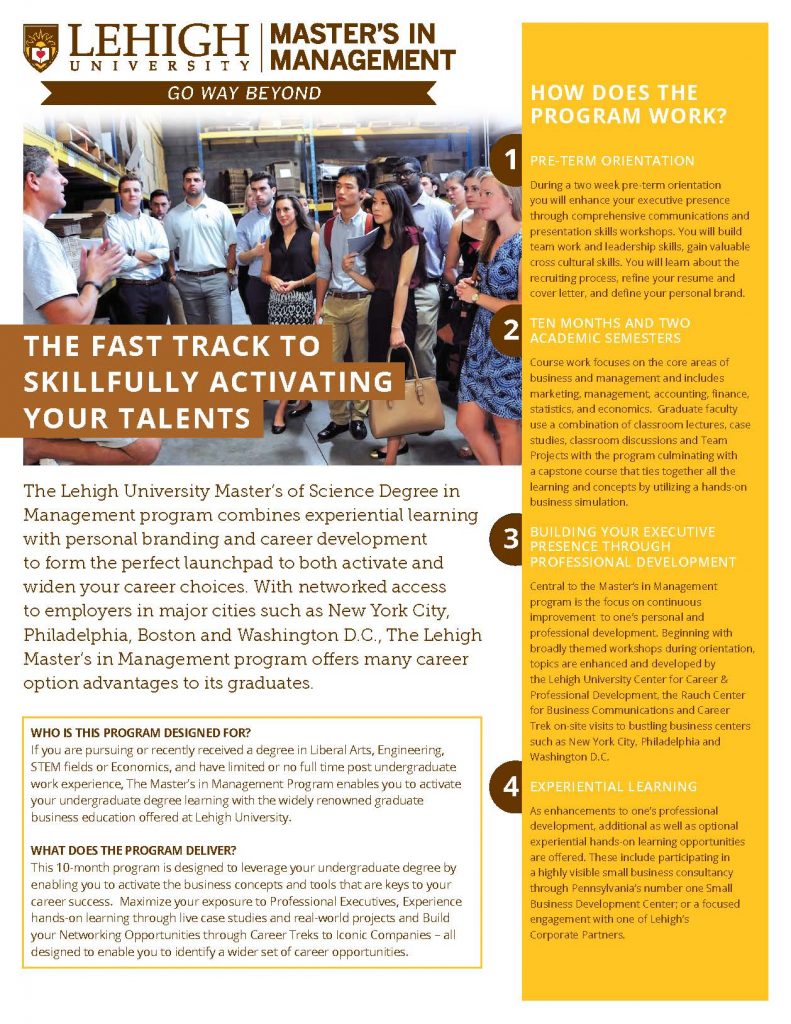 Lehigh's one-year MS in Management program paves the path from college to career by building a business skill toolbox that helps students define their career goals, sharpen their business acumen, refine their personal brand and immerse in the experiential learning that sets them apart. Specially designed for students with a non-business undergraduate degree, we believe the integration of business with liberal arts or STEM degrees provides the perfect launching pad for students with a positive and rewarding career trajectory.
Our now 4-year old MS in Management program features a rigorous curriculum, consists of quality peer students, and has a proven, excellent track record on job placements.  87% of the 2018 graduating class had offers of employment with an average salary of $64,300. Top employers included Amazon, Axtria, Bloomberg, Brinker Capital, IBM Consulting, KPMG, PayPal, and the United Nations, just to name a few.
In addition to this email information, attached is our MS in Management program flyer which highlights how the program works and what our MS in Management alumni have to say about their program experience.
For additional program information, please visit our website or contact Alyssa Clapp, MS in Management Program Director at alcb@lehigh.edu. The application deadline for Fall 2019 matriculation is March 15.