Representatives will be at Bucknell on Monday, February 4th for an information session and Tuesday, February 5th at the Internship & Job Fair for students to be able to learn more about this summer internship opportunity in Portugal geared towards entrepreneurship.
Info Session: Monday, February 4 | 5 – 6 pm | ACWS 108
Important Program Details: Program runs June 3rd – June 28th, and the cost $3,700 per person which includes airfare and housing, breakfast and most local transport.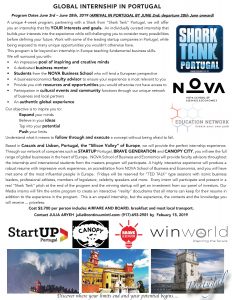 So what is this program: It is a unique 4-week program, partnering with a Shark from "Shark Tank" Portugal, we will offer you an internship that fits YOUR interests and goals. An individually curated internship that builds your interests into the experience while still challenging you to consider many possibilities before defining your future. Work with some of the leading startup companies in Portugal, while being exposed to many unique opportunities you wouldn't otherwise have. This program is far beyond an internship in Europe teaching fundamental business skills.
This four-week program will include:
An individually curated internship
Business/entrepreneurial mentors
Academic advisors from the NOVA School of Business and Economics
Interaction with investors and business professionals outside of their internship
Cultural events and tours
Masters students from the NOVA school paired with every intern
Safe, full service hotel accommodations, including most meals and transport
If this sounds like something that you want to experience stop by ACWS 108 at 5pm on Monday, Feb 4th to learn more or hit up their booth on Tuesday, Feb 5th at the Internship & Job Fair!