Excited to feature returning CDC Intern Caroline Guthrie '20 and her experience with the Capitol Hill Internship Program today!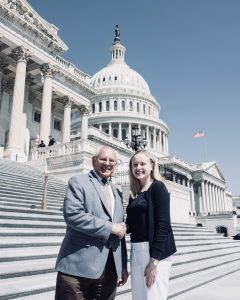 Caroline Guthrie '20
Major: Political Science and Spanish Double Major
Internship: Communications Intern with the Office of Congressman Paul Tonko (D.C.)
Please describe your experience:
I had a great experience interning on Capitol Hill. Some of my responsibilities included writing press releases, publishing social media content, and responding to concerns of constituents through letters and phone calls. I worked closely with the Communications Director to establish relationships with the press in order to get the Congressman's achievements in the news!
What is the most interesting or important thing you took from your Internship this summer?
I am very appreciative of all the knowledge I acquired by interning on Capitol Hill. I truly got an in-depth education on how our government works.
How did the Capitol Hill Internship program help make your experience possible?
The Capitol Hill Internship program stipend help make my experience possible because I was able to live in D.C. for the summer with an unpaid internship! I would recommend the Capitol Hill Internship program because it was very helpful to have a professional work with me to help apply and interview with offices on the Hill. It was also great to have the stipend so I didn't have to worry about my expenses for the summer.
Additional tips:
For anyone interested in interning on the Hill, definitely apply to the House side rather than the Senate. The offices are much more personal and the staff is much more likely to remember you and help you find a job in the future because they know you well! I know I'm biased, but I truly feel like working in a smaller office allows for bigger opportunities because the staff trusts you more, you interact with the Congressman (or woman) more, and there are fewer people doing the work in a Congressional office so they really rely on the interns.
Hometown
More about Caroline: At Bucknell Caroline is a writer for The Bucknellian, Student Development Officer at the Student Calling Program, and an Intern in the Career Development Center
More about the Capitol Hill Internship Program: The program was established in 2005 to provide internship opportunities in Washington, DC or local Congressional districts for students who are interested in learning more about the Legislative Branch. This program provides a stipend of $300 per week up to a maximum of $3,000 for the summer for students who are able to secure an unpaid, non-credit internship. The program is open to all class years (including graduating seniors) and the deadline to apply is in late November/early December each year.