Kate Sidlowski '18
Major: International Relations
Minor: French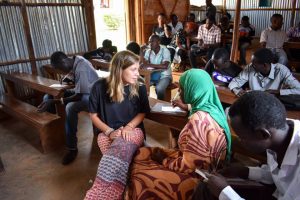 Internship: Hope of Children and Women (Kampala, Uganda), Development Intern
BPIP Internship Fund: Arias Family
What is the most interesting or important thing you took from your Internship this summer?
Perhaps the most important thing I took away from my internship was the sense of community HOCW strives to create. HOCW, a refugee-led organization, is a safe space for people who have fled their home countries due to political and social conflict. This "by refugees, for refugees" model is unique in that it empowers displaced people by providing education and entrepreneurial opportunities, but also by giving refugees a soft place to land and regroup. This model is particularly effective in East Africa, where life is built on the pillars of community and family. HOCW helps people to rebuild these pillars and creates a sense of belonging for those who have had to leave their countries behind.
Please describe your experience:
My internship was many things, but it was first and foremost a learning experience. Not only did I learn about the inner workings of a community-based non-profit, but I learned what it's like to work in the developing world. For example, I learned that the pace of life and therefore the pace of business is different, I learned that lack of infrastructure hinders even simple things and perhaps, above all, I learned how much culture matters when working in East Africa. As a Development Intern, I worked as liaison to an outside foundation that installed a library on our compound in July. I also worked with the organization's newly formed youth group, creating a leadership curriculum that focused on goal-setting, professionalism and building self-confidence through public-speaking. In addition to these formal duties, I worked in an informal capacity as a volunteer, helping out where I was needed. One week it was helping with English classes, the next it was painting a mural in our daycare facility!
How did the BPIP Fund help make your experience possible?
My internship experience would not have been possible without the support of the BPIP Fund. While many of my friends were looking into securing positions in New York City and Boston, I was looking across the Atlantic to Kampala. That's quite a commute! BPIP allowed me to pursue an opportunity in an uncommon place. Because of their support, I was able to work directly with the refugee population of Kampala, create and implement a leadership curriculum for their youth program, and learn the ins and outs of a community-based non-profit organization. Without the BPIP Fund, these experiences would not have been possible.
Why would you recommend the BPIP Fund?
The BPIP Fund is a unique opportunity for students seeking internship positions in the public sector, either in the United States or abroad. With the help of BPIP, I was able to work and live in Uganda. This opportunity, in turn, allowed me to come into contact with different cultures, people and ways of thinking. I was challenged to think outside the proverbial box and learned as much about myself as I did the organization I was working with. I'd recommend the BPIP Fund to any student chasing an uncommon opportunity or passion project. With the help of BPIP, these experiences are within reach.
Any other comments to share?
Working with HOCW has helped to define my career path. Having had the experience of interning in the developing world, I am certainly better prepared and have a deeper of understanding of what it will take to one day work in the developing world. With the guidance BPIP provided, I was able to pursue a passion project and at the same time, gain valuable insight into the international non-profit sector.
More about Kate: Kate is from Warren, NJ and is very involved at Bucknell as the Philanthropy Chair for her sorority, a Peer Writing Consultant, the VP of Sigma Iota Rho, Editor of Fire and Ice Literary Arts Magazine, and a contributor to the new student-created ETC. Magazine. In her free time, Kate enjoys reading, creative writing, the New York Times crosswords and opinion pieces, watching documentaries, traveling, and photography. 
More about BPIP: The BPIP Internship Fund is a competitive summer internship program that provides $3,000 scholarship to selected undergraduate students who have secured unpaid internships in the nonprofit, and public service sectors.  Information sessions will be held throughout the academic year and the deadline is mid-March. Students must have secured an internship before the deadline.