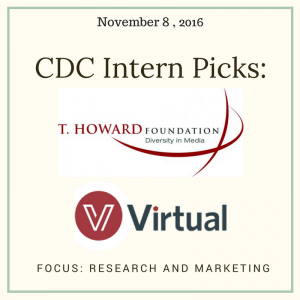 This week's topic for our CDC Intern picks are all about different aspects of the marketing and research trade.
Internship, T. Howard Foundation – Apply by Dec 1st

Internship, Marketing, Virtual Inc. – Apply by Dec 31st
This first internship is a great opportunity for those interested to the media and entertainment industry.
Internship, T. Howard Foundation, Silver Spring, Maryland – Apply by December 1st, 2016
The internships offered are PAID, ranging from $10-$18/hr, with positions open to sophomores and older of all majors. Positions will range from business and accounting aspects of the industry to journalism and even engineering. Not only will it expose those interested to a specific career path but will also present networking events and possible scholarships, interns will be able to apply for. An informational webinar will be offered on the 19th of November to learn more about the positions and internships available. The early deadline for optimal consideration is  Oct. 31st but they will continue accepting applications until Dec. 1st. Interviews will be offered during the second round of application review. Finally, If selected you will be paired up with a media and entertainment industry host that you will work with throughout your internship. To learn more about this opportunity go onto The Bridge or explore the T. Howard Foundation website.
Internship: T. Howard Foundation, Silver Spring, Maryland
Applications Accepted Until: Dec 1, 2016
Application Contents: Unofficial College Transcript, Resume, Recommendation Letter, Essay and short answer questions, and $25 Application Fee
Dates: Spring, Summer, and Fall 2017 Internship positions available
The next internship for the week is another great start for those looking to work in marketing the marketing field. It is a great opportunity for an excellent chance to learn about professionalism in the business world in general.
Gain the experience of being a respected intern with a voice in this successful and growing company.You will assist with corporate communications such as adjusting the employee newsletter and developing new business webinar strategies while working alongside other interns in a fun culture with a business casual attitude. This PAID internship is also a great networking opportunity as you will provide daily support to the Sr. Marketing Communications Manager and Specialist with a look in on projects and marketing research they are working on.Virtual is looking for rising Juniors and Seniors with a 3.0GPA or higher that are proficient in Microsoft Office. To learn more about this position, qualifications, and how to apply go to The Bridge or follow the link here, https://virtualmgmt.applicantpool.com/jobs/42026.html  and go directly to Virtual's website. Good Luck! (Also if you're not as interested in the marketing field, check out other internships Virtual Inc. offers like finance and PR).
Internship: Marketing, Virtual Inc., Wakefield, Massachusetts
Applications Accepted Until: Dec 31, 2016
Application Contents: Resume and Cover Letter
Dates: Spring Semester 2017

We highlight a few CDC Intern Picks that we think you'll find particularly interesting every week.  Learn more by checking out each pick on the Bridge. And while you're there, see what other interesting opportunities you find! If you have any technical difficulties with your application, email recruiting@bucknell.edu before the deadline for help.