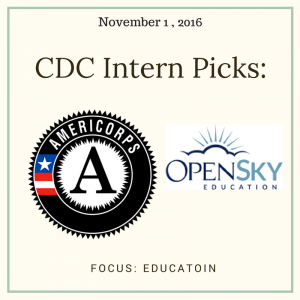 This week's peer pick is about education!
AmeriCorps – Apply by Dec. 3
Open Sky Education – Apply by Nov. 7
AmeriCorps is a civil society program supported by the U.S. Federal government, foundations, corporations, and other donors engaging adults in public service work with a goal of "helping others and meeting critical needs in the community." Currently, they are working in Boston, and there are positions to work as a tutor for small groups based upon your and their ability. Benefits of the position include a living allowance, an education award, subsidized housing with other Corps workers, and eligibility for health insurance. If you wish to pursue education or just enjoy helping others and haven't quite figured out what to do after graduation, you can apply through the Bridge by December 3rd.
Open Sky Education (formerly Educational Enterprises, Inc.) is a similar company as a Teach for America in that they find schools that have openings and help fill them with college graduates eager to enter the work force and make a difference. Currently, Open Sky is filling positions in the HOPE Christian School in Milwaukee in both fourth and sixth grade. They are looking for someone with some more background in education, so education majors or anyone who has done student teaching should apply by November 7th through the Bridge.

We highlight a few CDC Intern Picks that we think you'll find particularly interesting every week.  Learn more by checking out each pick on the Bridge. And while you're there, see what other interesting opportunities you find! If you have any technical difficulties with your application, email recruiting@bucknell.edu before the deadline for help.