This week's peer pick is focusing on graphic design.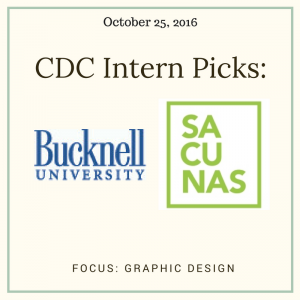 Internship, Bucknell Office of Communications – Apply by Nov. 18
Part-Time Internship, Sacunas – Apply by Dec. 1
Bucknell's Communications Division is looking for a graphic design intern for the Spring 2017 Semester. The job entails making graphics and layouts for print, email, web, and social media accounts. The intern will work with graphic designers that are full employees of the Communications Division. A graphic design internship primes you for future in-house work at other companies or with advertising agencies. You'll benefit from the guidance of designers and leave the experience with portfolio pieces. Apply by November 18th on the Bridge.
Sacunas, an award-winning business-to-business marketing and branding agency, is looking for a part-time graphic design intern to join their creative team during the spring semester of 2017. The company, based out of Harrisburg, is looking for a student, either in their junior or senior year, who can work 16 hours a week turning making project concepts into a reality. They are looking for someone with skill in using Adobe Creative Suite. The intern will create mock ups to showcase work, update content to existing assets, and interact with print shops to ensure quality production.  Apply by December 1 on the Bridge and via email to careers@sacunas.com.

We highlight a few CDC Intern Picks that we think you'll find particularly interesting every week.  Learn more by checking out each pick on the Bridge. And while you're there, see what other interesting opportunities you find! If you have any technical difficulties with your application, email recruiting@bucknell.edu before the deadline for help.