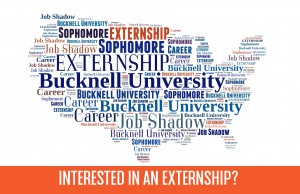 ATTENTION FIRST-YEAR STUDENTS:
– Have you heard about great shadowing experiences that helped pave career paths?
– Do you want a chance to try out an industry before applying to a full-time internship?
– Are you interested in a free lunch?
If so, come to Walls Lounge for the
Externship Program Information Session on

Monday, April 4th at Noon
!
The Bucknell Externship Program is a 1-2 day career shadowing experience offered to sophomore students over winter and spring break. There are opportunities around the country, and even a few international options. An externship is a great chance to learn about an industry without a full-time commitment while networking with Bucknell alumni, parents, and friends.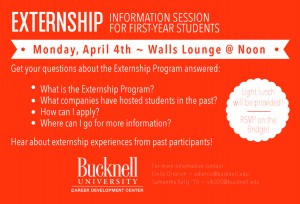 Come hear from past externship participants about their experiences! Learn about the program, what companies have hosted students in the past, and how to best prepare yourself for applying during the Fall 2016 semester.
Monday, April 4 | Noon | ELC Walls Lounge
Free Lunch – RSVP on Bridge
How to RSVP on the Bridge:
Log on through on Quick Links (CDC) or my Career Center on myBucknell.
In top blue bar, go to Events > CDC Programs.
Use keyword or date to search for program.
Select RSVP